Transport in Venice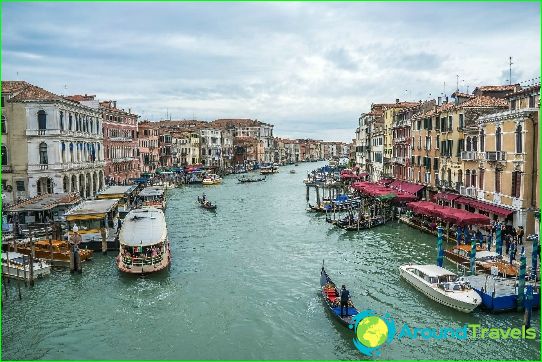 The transport system in Venice is special,because in this Italian city is no ground transportation. People need to move on foot or use the waterway, which is represented by the classic gondolas, vaporetto boats, gondolas tragetto. Ground transportation can only be used on the mainland of Venice and Lido.
Vaporetto
Directions will be expensive, and this should be prepared in advance. For a one-time ticket must pay seven euros. Further price increases with the ticket expiration date.
People younger than 30 years can save on travel. This will require buy Rolling Venice Card cost four euros. This card allows to buy a pass for 72 hours for € 18, saving 17. Rolling Venice Card allows you to receive discounts in the Museum Centre, in the Doge's Palace and several catering establishments. Remember that to get the card on the last page you need to enter personal data: date of purchase, and a series of passport number, name and surname.
Despite the high price of travel, the vaporetto is the most popular water bus.
Tragetto
Tragetto is a small gondolasizes. This type of transport is created to transport people from one side of the Venetian canal on the other. For one remelted need to pay only 50 cents. Points crossings very much, so they are extremely convenient to use.
Gondola
Gondola - a symbol of Venice. This type of vehicle came about in the VII century. First gondola were very bright and ornate, and now they are painted in black. It is important to note that the transport of steel painted black since 1562.
At the one hour time necessaryto pay 100 - 120 euros. If gondola lease five people, can achieve significant savings. In order to take advantage of the offer of the gondoliers, you need to apply to any water station.
Transport in Venice distinguished the high cost, but you can achieve savings by selecting the appropriate ticket for himself, to draw up a route and decided to walk to enjoy walking.
Photo