Holidays in Venice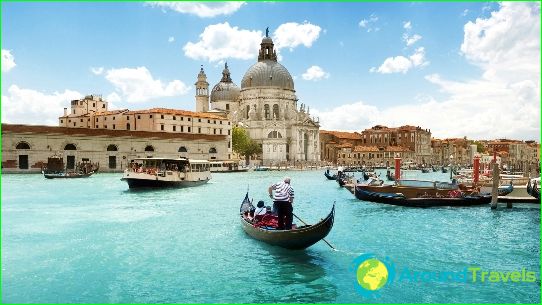 Holiday in Venice - it is an opportunity to go onshopping your dreams, ride a gondola on the canals, visit the Venetian carnival, relax on the sandy beaches, enjoy the Venetian architecture.
The main types of holiday in Venice
Sightseeing: excursion programs include the commission of exploring the Piazza San Marco, visit the towers Orolodzho, the Doge's Palace, the Palace of Ca 'd'Oro, Buildings Old and New Procuratie, Rialto Bridge of Sighs, the Cathedral of Santa Maria della Salute, a visit to the Church of San Fantin, Accademia gallery, the Museum of lace.
Beach: travelers should pay attention to the sandy beaches of Lido (thanks installed breakwaters water is calm and warm) - they are renowned for comfortable and gentle entry into the water. Everywhere here established cafes, playgrounds, rental (rent umbrellas, sun beds, equipment for water activities).
Entertainment: everyone can visit the casino "Casino Municipale", have fun "Harry's Bar" in a nightclub, a ride on the canals in a rented motorboat, fly on a seaplane.
Event: conjunction with a trip to Venice to festive events, you will be able to go to a costume regatta "witch Race" (6 January), Marathon "Up and down the bridges" (March-April), the festival "Festadel Redentore" (July), the Venice Carnival (February ).
Prices for tours to Venice
Managers are advised to travel agencies to visit Veniceend of April to early October. Having planned a trip to the romantic Italian city is worth bearing in mind that in the summer months, prices for tours to Venice jump by almost 2 times. The same applies to the period when the city hosts the Venice Carnival. To save money, you can come here in November and February, but it is important to know that at this time the city often "attacked" the wind and rain.
On a note!
In the summer holidays it is advisable to take alonglightweight clothing, sunglasses and cream, and the winter holiday - warm not blown things. Travel around the city comfortably on foot, and the channels - on a small boat or gondola.
It should be borne in mind that many shops and public institutions in the lunch hours are not working.
If while walking through the Piazza San Marco, you will want to feed the pigeons purchased for this purpose a special diet.
If not included in the cafes and restaurants, a service charge in the bill, the waiter it is advisable to leave a tip (5-10% of the total).
As mementos of Venice canspeak Venetian masks, costumes, buranskie lace, leather and Murano glassware, figurines in the form of a gondola with a gondolier, olive oil, cheese, wine.
Photos holiday in Venice