Venice in 1 day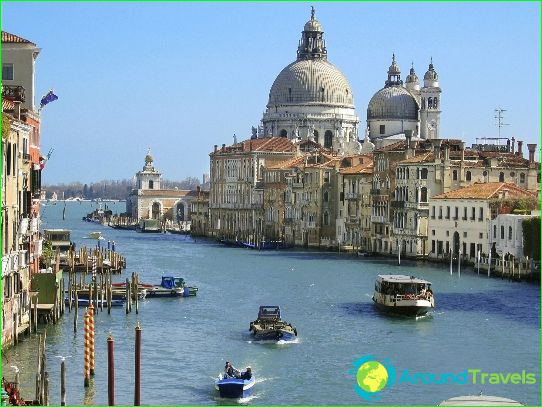 The most romantic city of Italy, the venuecarnival, playground for the prestigious film festival, a place for a romantic wedding - all these epithets do not reflect and a little bit of charm and delights of the capital of the Veneto region. Without a doubt, for 1 day in Venice - it is a little unfair and sad, but even a few hours in the city, rapidly leaving under water every minute, there are many days without it.
In the list - every home
Venice is so unique and incredible, thateven reputable organization UNESCO was unable to allocate it more and less valuable corners, home or area. All part of the island, along with the Venice lagoon is related to the list of World Heritage of Humanity.
The heart of old Venice - its main square. It bears the name of St. Mark and on it are the most important and priceless treasures - architectural monuments, see that it is already possible to form an impression of Venice in one day. To the Piazza San Marco leads the city's main street - Grand Canal. The dominant feature of the square is the Cathedral of Venice and its bell tower. Here the relics of St. Mark, and the luxury of the interior decoration of the cathedral makes spending long hours in it, considering the magnificent mosaics, frescoes and sculptures.
Who were the doji?
The majestic building on the right side of the square -is the Ducal Palace, the former once the elected heads of the Venetian Republic. The palace was the residence of the rulers, and today it is one of the best museums in Venice. Massive upper part of the palace is easy to rest on elegant arches, giving the construction of unimaginable delicacy and freshness. Special attention is given courtyard of the palace, where the magnificent bronze wells. Of these, in the old drawers of water, which carried the traders all over the city. The courtyard and the palace combines marble staircase magnificent work. It is called the Stairway of the Giants, and its creation took several tons of the famous marble karranskogo.
Doge's Palace is connected to the neighboring buildingelegant curved Bridge of Sighs, thrown over the palace canal. Romantic name is not too consistent with expectations: on the bridge sighed condemned in courtrooms, located in the palace. Accidents were the bridge to the prison, located on a nearby street.
Complete familiarity with Venice for 1 day betterjust one of the cafes on the Piazza San Marco. Prices here can not be considered humane, but a cup of coffee with a view of the Grand Canal is a few euros, even more so that it is extremely tasty and fragrant.
Photo