Venice for 3 days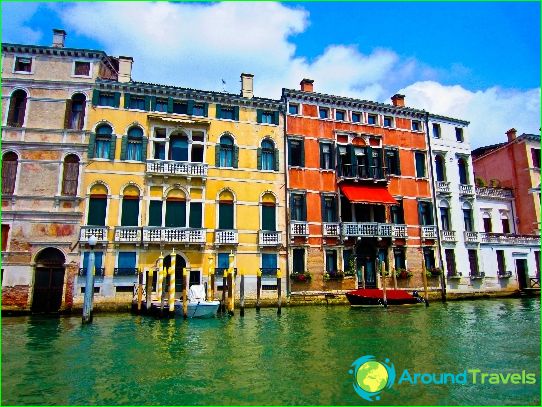 One of the most romantic cities in the world,Venice becomes a place of pilgrimage for millions of tourists every year. Go for it medieval streets, admire the ancient palaces and feel like a hero of the novel, he went up on board the gondola - the dream of many travelers. Even being in Venice for 3 days, it is possible to have time to get acquainted with the most famous of its architectural and historical masterpieces, and to begin a tour of the best from Piazza San Marco.
The heart of the city on the water
For standing on the banks of hundreds of canals of Venicethe main street is the biggest one in which daily and the citizens and guests arrive at the center by boat, and the vaporetto boats - water taxis. Grand Canal ends at the central square, the main architectural dominant of which is the Cathedral of St. Mark. Built in the IX century basilica majestic and beautiful, and it affects all the interior, the church stepped threshold.
In the cathedral the relics of St. Mark's and a lot ofrelics and valuable works of art collected in the Crusades. Byzantine mosaics decorate the interior of the Basilica and its Pala d'Oro - "the golden altar" - carried out in the tenth century masters in the technique of cloisonne enamel. The frame, which is placed in the enamel miniatures, made of gold-plated silver and decorated with thousands of jewels.
Glass of fairy tales
An excellent opportunity to get acquainted with Venice for3 days will be an excursion to the island of Murano, situated in the same lagoon as the main island of the Rialto. Murano is called a miniature Venice, and its main attraction - the famous glass, from which for centuries blown masterpieces. Manufacturing fragile treasures in the XIII century, was made to the island to the master could not leave it and to disclose the secrets of their unique craft. For this they were granted important privileges, and their children could marry with the owners of the noble names and titles.
Murano glass rampant inVenice and today, and an excursion to the island of glass blowers will be a wonderful occasion to get acquainted with the glass-making technology. In the shops you can buy a real bracelet Muranov and pick him earring or brooch. By the way, once in Venice for three days, it is necessary to look for gifts for family and friends. In this sense, figurines, statues, ornaments and utensils from the island of Murano will be ideal gifts for even the most demanding.
Photo