Water parks in Venice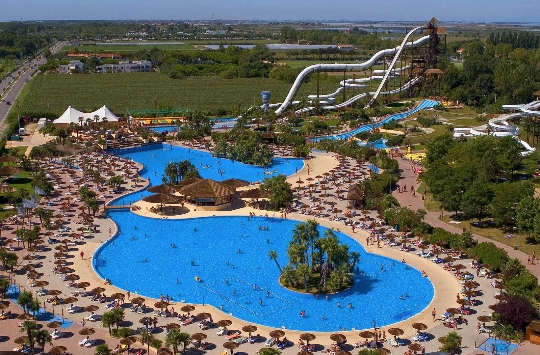 Visiting Venetian water parks, adults and younger guests will be able to get a real fairy tale with water attractions.
Water parks near Venice
Waterpark "Aquafollie" in Caorle (while underopen air, it is immersed in the luxuriant vegetation) pleases visitors pools (there is a wave pool), children and water slides for adults. If you wish, you can have a rest, sitting on the sun loungers under parasols on the sun; eat, hungry after a busy hanging out in local cafes; take part in the fun and games. It is worth noting that at the entrance you will find information about the structure and services "Aquafollie". Adult tickets cost 18 euros to guests and children (height not exceeding 1.3 meters) - 15 euros.
Water park "Aqualandia" in Lido di Jesolo features 26attractions, in particular, "Spacemaker" (descent on an inflatable raft at a speed of 100 km / h), "ScaryFalls" and "Stargate" (down from the hills, these pipes can experience unforgettable emotions under the influence of light and sound effects); "Shark Bay"; Crazy River; "Lagunade Oro" pool; "Tiki Arena"; Tower bungee jumping (you can make a jump from 60 meters high); sports area; a mini-golf course (18 holes) Aventura Golf; children's mini club "Funnyland"; nightclub Vanilla Club; restaurants. In addition, the "Aqualandia" live entertainment events, including acrobatic and circus shows. Entrance fee: adult ticket - 25 euros for children - 18 Euro.
Water Activities in Venice
Are you one of those who are interested in accommodation in the hotel with swimming pool? Pay attention to the "Hotel Giorgione", "Hilton Molino Stucky Venice" and other hotels.
If you are of interest to a beach holiday,you are advised to go to the island of the Lido (the trip on the vaporetto will take about 15 minutes), famous for its sandy beaches (there are social, crowded in the season, people, and private areas where visitors delight not only the high level of service, but rather high prices), which You can rent sports equipment, if necessary. There is also safe to swim families with children, thanks to a gentle entry into the water. It is worth noting that on the island of Lido you can arrive in September - at the Venice Film Festival.
An inquisitive tourist can not do without masksdiving (take it with you) - the construction of underwater barriers (their purpose - to protect Venice from flooding) has contributed to the fact that the coast of Venice formed reef and rich fauna, so anyone can encounter here with all kinds of fish, crabs, starfish and jellyfish.
And those who walk on the water, offers the soulgo on a mini-cruise on the city water arteries: they proplyvut Waters Giudecca Canal and the Grand Canal, through a maze of small channels (this walk will allow to admire the embankments, bridges, churches and palaces).
Photo