Shopping in Venice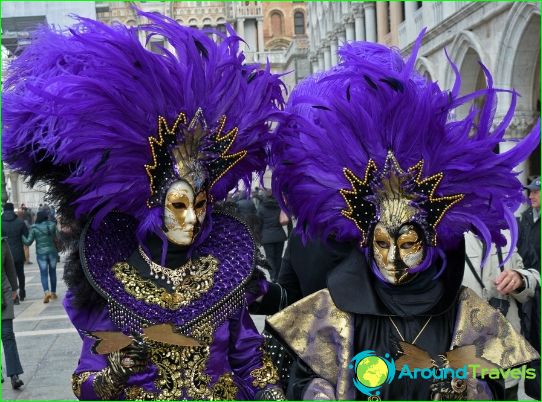 Venice - this is one of the most beautiful cities in the world. Some people believe that Venice is not the most suitable place for shopping, arguing that there is not a lot of stores, and the prices are sky-high. In actual fact, the Venetian prices for clothes, bags and other things are much less than in Russia. As for the small number of stores, then this is debatable. In every area of ​​the city is full of shops, boutiques, crowded exquisite glassware, fine lace, luxurious paper, leather goods and clothing - products that have made Venice the world-famous at the time.
What to buy in Venice as a gift:
Art Glass. In the first place the traveler has ever been in this amazing city, you should pay particular attention to the products that were created by the hands of these Venetian masters. For example, products made of Murano glass. Center of glass production in Italy is the island of Murano. Prices for glass products is several times lower than abroad. From Murano glass masters make various ornaments, plates, mirrors, ashtrays and expensive home furnishings: exquisite chandeliers, vases and so on. Art Glass in Venice sold at relatively high prices, while here, compared to other Italian cities, the range of these products over a wide and varied.
Another popular souvenir is buranskielace. They are best buy in the specialized textile Venetian shops. Travelers are advised to visit the shops on the Piazza San Marco and Ruby Gallery. Price buranskih lace textile shops slightly higher than the market, but will not have problems with product quality.
Another interesting souvenir that can bebrought from Venice - a carnival mask. The city is immersed in a huge number of masks of any size and quality. The largest selection of Venetian masks presented in stores Il Canovaccio and Tragicomica. As for the price, the most expensive masks are made of leather. According to legend, Casanova wore such masks.
Designer clothing. It is difficult to imagine shopping in Venice without visiting the numerous clothing stores. Here you can find a well-known designer brands boutiques and shops of local manufacturers of clothes and shoes. For people who prefer an exclusive, in the city there are special shops where locals sell exclusive items of own production - a charming dress, original bags, unusual shoes. It should be noted that the clothes in Venice, best to buy during the sales.
What to bring from Venice as ediblesouvenir? Of course, Venetian delicacies. In addition, virtually every other traveler, who visited Venice, as a souvenir carries away the olive oil in a bottle of Venetian glass. This gift sure to please both families and loved ones. You can not leave Venice without the famous bottle of Chianti, unique grappa or liquor, a stunning piece of mozzarella and Parmesan cheese and a few packs of delicious Italian pasta.
Photos shopping in Venice