What to do in Venice?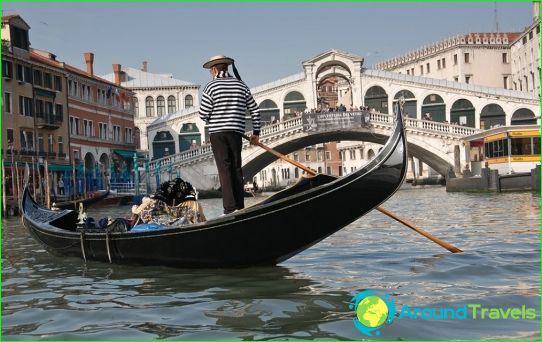 Venice - it is romantic and fairy-tale town: here you can ride along the Grand Canal by boat or gondola and admire the amazing architecture.
What to do in Venice?
Visit Venice Carnival (every year the city is transformed into a single theater stage, where each person - and the audience and the actor);
Walk through the Piazza San Marco;
Go to the Gallery of the Academy;
Take a ride on a gondola on the canals of Venice (this boat - not just urban transport, but also the symbol of Venice);
Visit the grave of Joseph Brodsky on the island-cemetery of San Michele;
Visit the island Quarter Venice - Burano (it is famous for colorful houses and weaving of the famous Venetian lace).
Things to do in Venice?
Getting to Venice is to start with a morningwalking on the Piazza San Marco: gone here at 7 o'clock in the morning, you will experience complete peace, because at this hour of the morning there will not be crowds, bustle and even the pigeons that flock to the area in search of food. You can go to a cafe "Couarde" or "Lavena" to leisurely cup of coffee and enjoy the music. A little later, when the city finally wake up, you can visit the Doge's Palace and the Cathedral of San Marco.
On the walk, you can go to the waterfront of the Grand Canal and see the Bridge of Sighs (romantic place), or walk along the Rialto Bridge (place travelers clusters).
In the evening you can go to a restaurant, opera(Opera "Felix"), on a walk through the channels in the Venetian lagoon embankment (buy a set for a picnic including wine, cheese and fruit), boat trip, or water bus.
In Venice you can visit as part of a shopping tour: boutiques can be found on the streets of Calais Larga and Mercerie - here you can get things from Armani, Gucci, Roberto Cavallo.
Beach lovers will be able to check out beachLido di Venezia. Arriving here in August and September, you will witness a bright event - Film Festival (during this period you can meet with the stars of world scale, are so fond of rest on this beach). When they reached the beach, you can sunbathe and swim in the Adriatic Sea.
Night owls can also enjoytime in bars, clubs, casinos, jazz clubs. So, visit the Club Piccolo Mondo, where you can dance and have a drink. And for the best dance floors, chic bars, European cocktails and snacks is better to go to Hollywood, and Piazza Mazzini.
In memory of Venice, you can buy Murano glass, carnival masks, tapestries, jewelry.
Venice - the city of canals, palaces and bridges, each camper will be able to find a game to their liking.
Photos where you can go to Venice