Independent travel to Verona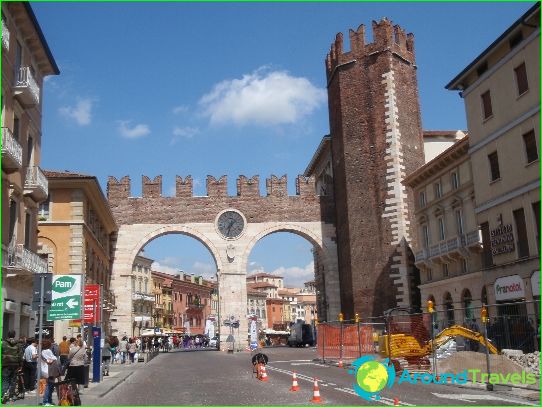 The city's most famous in the history of mankindlovers, Verona called little Rome - so much in it historical and architectural attractions. Visit the home of Romeo and Juliet then visit the town, which UNESCO entirely taken under his protection and care.
When to go to Verona?
The hottest months in Verona - July and August. At this time, the air temperature can reach 30 degrees, so sightseeing would be a matter of not pleasant. It is better to come in the most romantic place in the world in the spring or early autumn, when the comfortable weather will not prevent any examination of ancient palaces or walks through the picturesque streets.
How to get to Verona?
In Verona has its own international airport, from which it is best to get to the city center by express bus. Verona Train Station take the train from Rome and Milan, Florence and Modena.
housing
Hotels in Verona presented for every taste - fromfive-star luxury to small family, where it is possible to stay no more than 50 euros per night with breakfast. Bonus attached great service and comfortable home environment.
Argue about taste
Main feature of Verona cuisine - in the most horse meatdifferent variations. Popular pasta this is not the most common type of meat. However, the categorical opponents of such delicacies should pay attention to other forms of traditional Italian pasta and ravioli in the preparation of which the local housewives know a lot.
Cognitive and exciting
The main attraction of Verona - housewhere he lived the young Juliet. Under the balcony it is always crowded - tourists in a hurry to touch the statue of Shakespeare heroine of happiness. The odds remain under the balcony in splendid isolation is not great, but independent travelers they grow significantly in the morning, while organized groups still gather at their hotels.
Verona and its famous fountain that adorns the city since the middle of the XIV century. Madonna Verona Fountain became a place of pilgrimage of thousands of tourists and a model of the sculptural and architectural Gothic.
No less significant historical building incity ​​- Arena di Verona - Amphitheatre of pink marble, the third largest in Italy, whose age has for two thousand years. In summer, the arena held its opera productions, and "Romeo and Juliet" in a live performance is best to listen to it here.
Photos trip to Verona