What to do in Verona?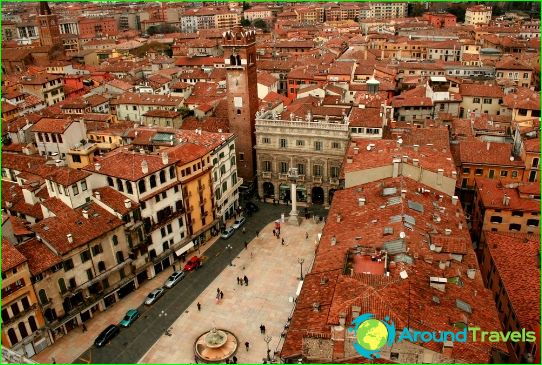 Verona - the romantic city where developedEvents sad tale of Romeo and Juliet. In addition, Verona - UNESCO World Heritage Site (here preserved objects of cultural and artistic heritage).
What to do in Verona?
To visit the Roman amphitheater Arena di Verona;
To stand on the balcony of Juliet's house (to get to the garden, to the balcony of the house you have to walk through the arch, covered with writing declarations of love);
See the stone bridge Ponte Pietra;
View Castelvecchio Castle;
Try the popular red (Bardolino, Amarone), white (Lugana, Custoza), dessert (Recioto di Soave, Recioto di Valpolicella) wine.
Things to do in Verona?
Getting to know Verona is to start with the city center- Piazza Bra: here you can take a picture on the background of the fountain of the Alps and the equestrian statue dedicated to Victor Emmanuel II. You may want to visit the area of ​​Citta Antica with the ancient buildings of the Roman Empire.
Going for a walk in the Piazza delle Erbe, you can see the house of a merchant, and Palazzo Maffei. On the same square you will meet House Mazzanti, Aedicula and fountain of Madonna Verona.
For shopping should go to Via Mazzini, with itsinviting shop windows of expensive boutiques and Italian fashion houses. Many shops, small showrooms beginning designers, cozy souvenir shops can be found at Corso Porta Borsari. And lovers of antiques and unusual gifts worth a visit Corso Santa Anastasia.
Active and extreme tourists can make the leapparachute or be trained on AFF courses, including 7 levels in the school of parachuting. And you can go to Verona climbing center "King Rock" - are able to learn how to climb, not only adults but also children in the "Baby-courses" and courses for teenagers.
Take a hiking active help inVeronese branch of the Italian Alpine Club. Immediately help organize the route for lovers of trekking and Nordic walking. Turning to the company Adige Rafting, you can go rafting - rafting on the Adige river. Do you want to go canoeing or learn to manage it? Embark on a canoeing club Verona. And to go on a horse tour and learn how to ride a horse, you can in the equestrian complex La Pampa Colle Arzan.
Arriving in an old and beautiful city in Italy, you can enjoy the beauty of the city, famous for its many historical monuments and architectural objects.
Photos where you can go to Verona