Beaches in Tuscany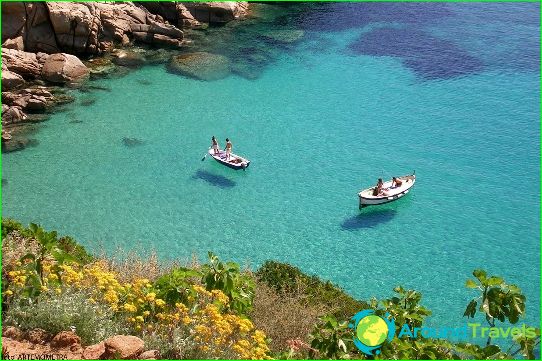 Tuscany. This is probably the most exclusive and picturesque resort of all the tourist regions of Europe. This wonderful place is famous for its beaches. North Coast is a favorite place for the Italians themselves. There is a huge number of resorts, there are nature reserves, where there are many of the best sandy beaches in Tuscany.
The most popular places of the Tuscan Riviera are:
Resorts from Viareggio to Marina di Carrara;
Nature reserve in the Maremma;
Punta Ala;
Follonica;
The resort of Castiglione della Pescaia;
Former rocky polustrov Monte Argentario;
Islets of Giglio and Giannutri;
Viareggio;
Lido di Camaiore;
Forte dei Marmi.
Exotic highlights local beaches
Each beach has its own specialappeal. The resort in Viareggio and Marina di Carrara, the beaches have everything needed for a relaxing, well-equipped and very similar to each other. The territory of the reserve in the Maremma is under state protection. At the local beaches are not so many people. Most likely, this is due to limited access to their territory, and the beaches are open less frequently.
Punta Ala distinctive luxuries anddearness. Very popular with the local yacht club. Follonica known for its relaxed atmosphere, clean sand, sloping shores. Castiglione della Pescaia offers visitors a choice of quite a varied "menu" of entertainment. Here and in the coastal waters warm swim is possible, and a variety of water sports to do. The nearby pine forest. According to the local surroundings can make horse riding or biking.
In the former PeninsulaMonte Argentario is located two major resort town of Porto Santo Stefano and Porto Ercole. Cozy beaches hidden between the rocks directly. And can be reached only by boat. Giglio and Giannutri popular with diving enthusiasts. Beaches to them not so much, but they are quite equipped and picturesque.
Most large and long beaches is almost 20 km longlocated in Versilia. Prices for holidays in these places the highest. More often than not elite resting here. Local resorts are considered to be the most prestigious. Quay Viareggio is attractive and its fashionable boutiques, bars and restaurants.
The most economical vacation awaits travelers to Lido di Camaiore. Here everything is simple and tasteful. But the Italian celebrities prefer to relax at Forte dei Marmi.
All beaches in Tuscany are considered public. Log on many of them paid. Using sun beds, umbrellas, showers, sun beds
can be free. You can select a moment to snack at a local bar, recuperate and go again to contemplate the local sky-gold beauty.
Beaches in Tuscany - is a wonderful combination of natural beauty and the best service.
Photos beaches of Tuscany