Islands of Italy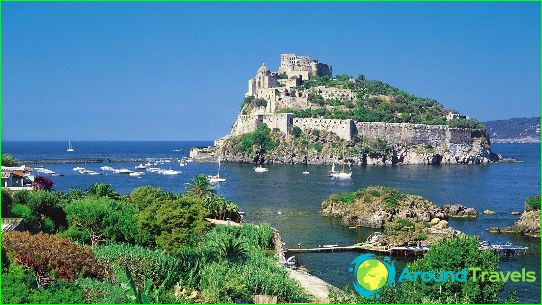 Italy is not only the peninsula,but also of the island in the surrounding seas. This country belongs to the large island of Sicily, Elba, Sardinia, as well as a number of small islands. Numerous small islands of Italy (a total of about 700) form an archipelago. Within the Italian borders are over 80 beautiful land areas. They all have differences in climate and the nature of the culture.
Features islands
Italy has the usual sea islands (Ischia, Elba, Pantelleria, and others.), Regions, islands (Sardinia, Sicily), lake and sunken land plots.
The largest and most beautiful island is Sicily. There are excellent beaches, castles, olive groves, rocks and mountains. The territory of Sicily refers Vulcano, which is an active volcano.
The second largest Italian island inSardinia is the Mediterranean. It is 12 km from the island of Corsica (France) and 200 km off the west coast of Italy. This region has gained popularity due to interesting sights and pure nature. In Sardinia, the famous Valley of the nuraghi, which preserved ancient buildings of stone. On this island is Mount Ortobene, on top of which the statue of Christ the Redeemer was established.
Near the Sardinia archipelago stretchesLa Maddalena. It consists of the island such as Budelli, Santa Maria, Santo Stefano, La Maddalena, and others. The archipelago is formed by cliffs, rocks, reefs, islands and coves.
To the west are the islands of TuscanyGorgon, Elba, Montecristo and others. They form a picturesque Tuscan Archipelago. Part of the island is of volcanic origin. The most significant island of the Tuscan archipelago - Elba. The island is world-famous thanks to the Emperor Napoleon, who had been exiled there.
The Tyrrhenian Sea is the island of Ischia, where the function balneological and thermal spas.
Climatic conditions
Insular Italy is in the zoneMediterranean climate. Almost the whole year on the islands is maintained clear and sunny weather. In summer, in the resorts hot and dry. In winter, the average temperature is 10 degrees. Snow is very rare, with the exception of the Alps. South Island of the country are exposed to hot, dry winds from the Sahara. These days, the temperature in some areas reaches 35 degrees. In coastal areas, the summer sea water temperature is 27 degrees. In Sicily noticeable temperature difference between the center of the island and the coast. Rains are rare here. In the summer on the islands there are thermal winds that arise due to the simultaneous action of sea and wind onshore.
Photos of Italian islands