Kitchen Italy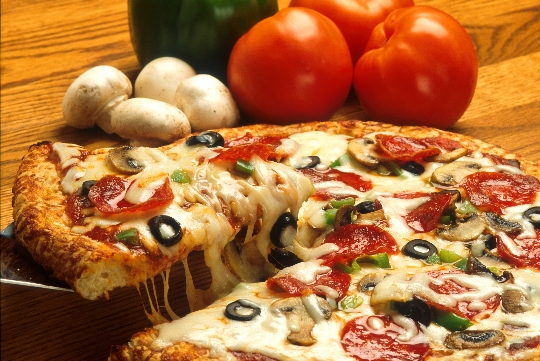 Italian Cuisine is diverse, with different regions of the country have their own recipes and cooking traditions.
National Cuisine of Italy
It is worth noting that in the north the mostpopular meat dishes (meat is used even for sauces), and in the south - seafood. But in general, in the local cuisine of great importance given to olive oil, vegetables, seafood, vegetables, cheese, pasta.
Popular Italian dishes:
lasagne (sheets of dough stuffed with meat, soaked in "béchamel" sauce);
pizza (a thin cake laid tomatoes, herbs, cheese and other ingredients, then the dish is baked, and its popular species are "pepperoni," "Marinara", "Margarita" and others);
ravioli (a dish of dumplings with different fillings - meat, fruit, cheese, cottage cheese);
risotto (it is based on rice and seasonings, for example, in the risotto milanese add saffron and onion);
carpaccio (raw beef that is cut into thin slices and marinate with vinegar and olive oil);
minestrone (soup, which is used for cooking potatoes, beans, celery, tomatoes, and other vegetables and spices).
Where to try the national cuisine?
Visiting Italian restaurants keep inmind that the ordering table, your account may grow almost twice than if you take the food to go or decide to stay at the bar (see the menu - as a rule, there it is written, as well as the fact that the restaurant may be charged service charges or coperto-charge for a basket of bread and cutlery).
In Verona, you can visit the restaurant "Al CarroArmato "(authentic menu - you can order different types of pasta and assorted cheeses; the average score - 35-40 euros) in Rome - pizzeria" Monte Carlo "(in addition to 16 kinds of pizza are served here, and other traditional Italian dishes) or the restaurant" La Carbonara "(here it is worth to try dishes of Roman cuisine - bucatini all'amatriciana, artichokes, oxtail, the average bill for dinner - 45 euros), in Venice - pizzeria" Al Nono Risorto "(apart from the pizza here a rich choice of fish dishes), in Sicily (Palermo) - "Da Calogero" (the fish restaurant offers a feast of seafood salads, soup of mussels, octopus with spices, and drink it all a glass of white Sicilian wine).
Cooking Courses in Italy
Those interested can sign up for cooking classes in Naples, where they will cook dishes of Campania in the form of pizza, various sauces and supplements thereto and pasta, cake and "calzone".
On the culinary lesson in Rome, you will learn to cookappetizer, pasta, main course and dessert, will be offered to taste 4 kinds of wine in the region of Lazio (after a 5-hour lesson will give you recipes that have been used in the cooking process).
If you are going for a vacation in Piedmont, will be able to visit the cooking classes, where you will learn how to cook braised beef in Barolo wine Pliny in langski, veal with tuna sauce and other dishes.
Arrival in Italy is a celebration podgadatfestivals in honor of the white truffle in Alba (October-November), chocolate - in Turin (November), pizza - Naples (September), paste strascinatiintegrali - in Magliano de 'Marsi (June), the Mediterranean culture, food and wine - Sicily (September), cavatelli - Vasto (July).
Photo