Cruises in Italy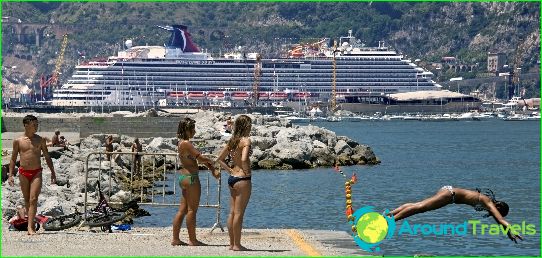 Apennine boot, which is locatedItaly, is surrounded by the sea, but because almost every town there is a port. This means that Italy - a country optimally suitable for sea travel. All architectural monuments and historical attractions, cuisine and excellent shopping can be made available if the plan next holiday on board. Cruises in Italy - is a fascinating way to spend a few days surrounded by beautiful scenery and nice people.
From Liguria to the Adriatic
sea ​​cruises program in Italy may bemost diverse, we need only select the desired route. Completely round the peninsula - it means to visit all the major port cities of Italy and its islands:
In Venice, where there are no houses, but only palaces, called Palazzo. Here the quiet waters of the countless canals glide old heavy gondola run real virtuosos.
In Bari, the Basilica of St. Nicholas, built in the XI century to store the relics of the saint. Today, the temple is one of the most significant for Catholics around the world.
In Rome - the eternal city, where every stonesteeped in history. The Colosseum and the Trevi Fountain, Piazza Navona and Fountain of Rivers, the Vatican Museums and Sistine Chapel - in the Italian capital, you can spend hundreds of hours each of which will be remembered forever.
In Naples - this seaport with shrill cries of gulls, buzzing sea liners, push off from the piers and authentic fish restaurants serving the best seafood.
Capri - the island with the stunning beauty of the beaches and the famous Blue Grotto, which served as a place of secret bathing even residents of ancient Rome.
In Sicily - birthplace of the Italian mafia andthe active volcano Mount Etna. His white cap rises to over 3300 meters above sea level, Etna is the largest active volcano in the Old World.
On the River Po
Equally popular with tourists and river cruisesItaly. The longest of the Italian rivers called Po, and its banks are some famous ancient cities like Ferrara, Cremona and Mantua. By purchasing a ticket to the river cruise, you can be in romantic Verona, familiar from Shakespeare's play. Here Juliet's balcony is good to think of the most important in the life of desire, and then go down the river along the picturesque coast. Stop in the small towns - it and tasting the local cuisine, which each province has its own characteristics. And river cruises in Italy - a rare opportunity to taste wines from different wine regions.
Photo cruises in Italy