Small city in Italy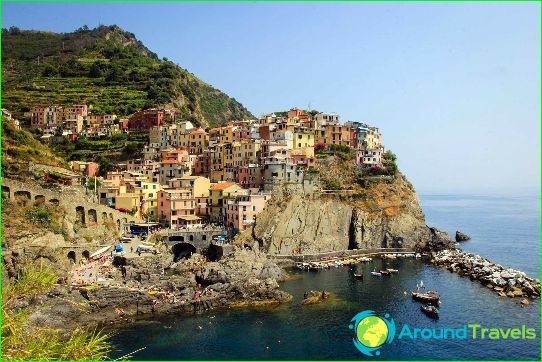 Italy is considered to be a museum opensky, and the number of local attractions makes fans of ancient history and magnificent architecture again and again fly to Rome, Venice or Florence. But there are special places in the Apennines, where eager admirers of harmony and comfort, rural peace and inexpressible provincial charm. Only the small towns in Italy are able to fill the heart and soul of warmth and harmony, without which it is impossible to know not only the world, but also himself.
Great Pyatizemele
It is not the address of the novel in the style of fantasy, but quitereal Italian region where prefer to spend their vacation true connoisseurs of romance, privacy and a quiet breakfast on the terrace with views of the Ligurian Gulf. Doll towns, where the doors are parked boats instead of cars and the walls of the houses are painted in bright colors, connected by mountain paths and unified concept of eco-friendly in every sense of relaxation by the sea.
In Riomaggiore starts with a trail of Lovespectacular scenery and famous brand Manarola focaccia cake, invented many centuries ago, the wives of local shepherds. In Corniglia views of rocky cliffs breath, and Vernazza is a car. Arisen in the XI century Pyatizemele taken under the protection of UNESCO.
Pearls of the Sea
The smallest city in the south of Italy calledAstrani. He is recognized as one of the best holiday destinations and boasts a career of TV stars. This is where a lot of beautiful shoot commercials. Castelsardo in Sardinia besides the fantastic cuisine in the coastal restaurants offers medieval castles and the perfectly clean beaches. Oranta has given the world amazing beautiful horses of local breed, and in Polignano del Mare is the world-famous restaurant in a cave.
The useful piggy bank
Getting around the small towns in Italya rental car is not too convenient. They do not always possible to find a parking lot, and the place it will be expensive. It is much easier to use the train and from the station to get a taxi.
Hotels in these areas are small and resemblehome board. Do not think that it ensures discount room rates - in the small towns in Italy, there is always a demand for rooms, but because the prices are kept at the metropolitan level. But a hearty breakfast made with fresh produce is usually included in the room, and coffee and pastries from local housewives are delicious!
Photo