Holidays in Italy in December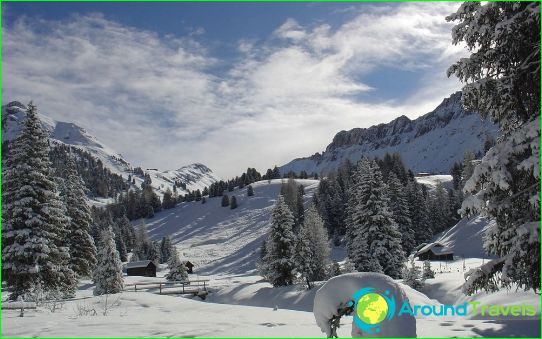 Weather in December in Italy ceases to be sunny and felt the beginning of winter. What weather you can expect?
Weather in Italy in December
In Sicily, the temperature is + 10-16C. This temperature range is ideal for the collection of citrus and late varieties. In December, it can be up to twelve rainy days.
Sardinia is located to the west of mainland Italy. During the day the temperature is around + 16C, but colder in the evening to + 7C.
Resorts Neapolitan Riviera pleasing softclimate, but at the same time the weather turns cooler, compared to Sicily and Sardinia. On Ischia, Sorrento and set temperature + 7-13C. Capri and Naples, the day can be warm, but the nights are cooler, because the temperature is + 6-7C, and to + 14C.
In order to enjoy long walks in Rome, you should dress warmly. Daily temperature fluctuations up + 6-12C. However, December is different, rainy and windy weather.
In Pisa and Florence The walk will be difficult to enjoy because the temperature ranges from +4 to + 11C. However, precipitation will be lower compared with Rome.
Holidays and festivals in Italy in December
If you arrive on holiday in Italy in December, get ready for an amazing holiday. Residents of the Italian cities to spend days of heavenly patrons with optional concerts, carnivals.
December 8, decided to celebrate the feast of the Immaculate Conception of the Virgin Mary. On this day, Italians dress up the tree and lay beautiful flowers to the Virgin Mary statue.
In Milan in early December, held a three-dayhonoring the city's patron saint - St. Ambrose of Milan. These days the city is already working Christmas market and concerts are held.
On the night of Christmas on the square in front of St. Peter's Cathedral Vatican Mass is held. In Verona this day to spend the Christmas exhibition.
December 26 at Italy celebrate St. Stephen's Day. Most noisy celebrations are held in Putignano, the city's oldest carnival procession with puppets made of papier-mache.
31 December Italians celebrate the New Year with allmandatory attributes: decorated shop windows, ornate trees. The night of January 1, taken hold in the best restaurants or at a party. In Rome, near the Colosseum launching fireworks of surprising beauty.
December - this is one of the best months for a holiday in Italy.
Photos holidays in Italy