Holidays in Italy in September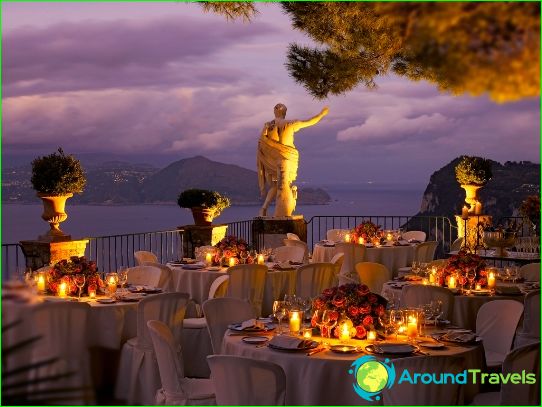 September - month continuation of the holiday seasonItaly. The beginning of autumn is ideal for tourists, because the debilitating heat passes, but the water is still warm. However, it is important to be prepared for the fact that in some regions of the country rains are frequent visitors.
Weather in Italy in September
In Sicily, in September, there may be four or five rainy days. Similar rates are found in Sardinia and resorts. The temperature of the day varies from + 20C to + 28C. The water warms up to 24 degrees.
The resorts of the Gulf of Naples and Naplesthe weather is not so encouraging, as far as we would like. Air day can warm up to 25 degrees and the water temperature is + 23-24 degrees, which is acceptable for swimming. However, we must be prepared for frequent rains, it happens to six rainy days in September.
On the Ligurian Riviera is setcool, rainy weather. The number of rainy days may be seven. During the day the air warms up to 24 degrees, and at night cools down to 17 degrees. The water temperature off the coast is 22 degrees.
In Rome, Italy's capital, the temperature ranges from + 16 ... 26C. In September, may fall 68 millimeters of precipitation.
Festivals in Italy in September
Holidays in Italy in September - this is a unique opportunity to learn Italian culture. So, what events deserve your attention?
Pizzafest festival is held in Naples andIt is one of the brightest events in Italy. At this unique event is visited by people from around the world. It is important to note that Pizzafest become an annual event until 1995, but after that his popularity level has grown significantly. During the festival pizzaiolo compete in various cooking pizzas, and everyone can participate in master classes, taste delicious. Pizzafest also includes dance evenings, concerts, shows, theater performances, sports events, competitions, gift fairs.
In Florence Lantern Festival is held,which accounts for 6 - 7 number. Throughout the city held a procession with paper lanterns, which burn decorative candles. Florence attracts tourists and fair.
In Naples Pedigrotta held in September,which is a festival-competition designed to identify the best lyrical song. Later it grew stratifying Christian feast in honor of the Virgin Mary, so now taken hold and solemn procession.
In Rome, conducted the "White Night" - the second weekendSeptember each year. The festivities begin at 20.00 on Saturday and ends at 8.00 am on Sunday. At night, a theater, cinema, museum centers, artgalerei, cultural institutions, zoo. Those interested can visit the palaces and private residences. Squares and streets become pedestrian area which attracts a bright illumination.
Spend September interesting and rich in Italy!
Photos holidays in Italy