Water parks in Sicily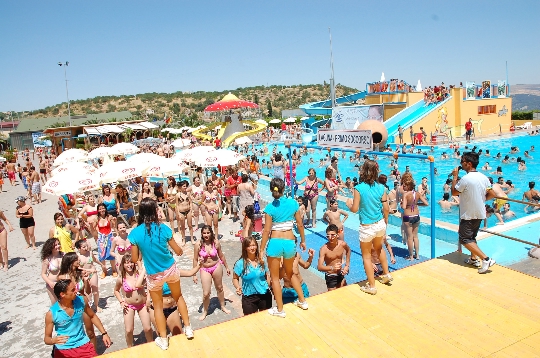 Water parks in Sicily - attractive place for hanging out with your family (will be able to visit them an unforgettable experience).
Water parks in Sicily
"Europark Roccella" has swimming pools(Will be able to swing on the artificial waves), water attractions, whirlpool, solarium, sports ground (available games - tennis and volleyball) and even a football field, massage facilities, a picnic area, coffee shop. In addition, visitors will be able to treat yourself to a spa-procedures and attend the various parties and colorful show. Adult tickets are sold at the price of 14 euros, and for children - 8 euros.
"Parco Acquatico Conte" is equipped with swimming pools,that evening delight guests multicolored lights, water slides and attractions, cafes. In addition to water slides, guests are offered to be trained various kinds of dances. Adult tickets cost 20 euros and children discounts.
"Acquapark Monreale" at the disposal ofGuests adult pools, including diving, and children's pools, water cannons, attractions "Black Hole" and "Tobogans", sunny terrace for sunbathing on sun loungers, while on Saturdays they offer to attend dance parties. Ticket price - 13 euros / adults and € 7 / children.
"Etnaland" pleases guests laser show, 20water attractions, including a high-speed (you can develop a speed of up to 100 km / h), among them are the "Kamikaze", "Niagara Falls", "Double Twister" (attraction in the form of 4 interlaced tunnels - allows you to arrange a competition with your friends), " Black hole "," Crocodile slides "," Splash jungle "(is a 20-seater boat" testers "will make a leap into the abyss with a 30-meter-high), a zoo, dinosaur park, turbulent river (it fits" inhabited "engineered animals) , Blue lagoon (spa-area with waterfalls, jacuzzi and rocks) and a children's lagoon, rafting on which the 9-seater boat, restaurants. Admission - € 22 / adult, € 13 / child (up to 1.4 m).
Water Activities in Sicily
Sicilian coast - the perfect place forDiving: there is a lot of sites for the organization of diving, including challenging for experienced divers. Those who wish to be able to admire the underwater flora and fauna, explore the reefs, underwater caves and shipwrecks.
As for the beaches, the tourists canto go to Cefalu Beach (open to the public round the clock; the combination of a beach holiday and wellness treatments), Mondello Beach (active as windsurfing + picnics), Torre Salsa (solitary pastime + observation of turtles species Caretta) and Isola Bella (calm rest + swimming + commission of a mini-trip to a natural promontory located near the beach).
Photo