Sea Italy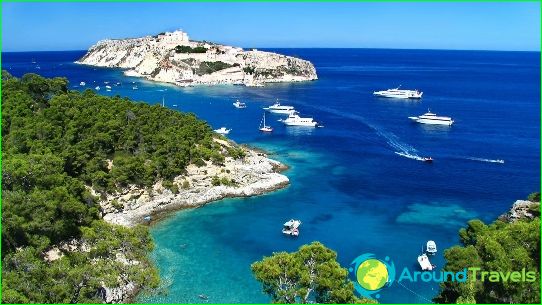 Relax on the Apennine peninsula! It sounds great and impressive, and not only for those who prefer to enjoy a vacation architectural masterpieces. Beautiful Sea Italy - a significant reason to go to the Apennines, to sunbathe and swim in the company of beautiful people and surrounded by the best natural masterpieces. Those who are interested in geography, to answer the question of what the sea in Italy, is not difficult. Tip for the rest looks like this:
Ligurian Sea. Located in the northwestern part of the "boot" above the island of Corsica. Presented in Italy the Gulf of Genoa.
Tyrrhenian Sea. It stretches south of the Ligurian, and its swimming pool is framed by the islands of Sardinia, Sicily and Corsica, Tuscan Archipelago and the western coast of the peninsula.
"Soles" Apennine "boot" is washed by the Ionian Sea, flows smoothly in the south of the main part of the Mediterranean and the north of the Strait of Otranto connected with the Adriatic.
And finally, the Adriatic Sea, extending from the "heel" to Venice itself, where its waters proudly styled the Gulf of Venice.
All these waters belong to essentially the same water basin, and therefore the question of what the sea washes Italy, there is another answer - Mediterranean.
Beach holidays and other advantages
All Sea of ​​Italy have their own specifics beach holiday, but because the concept of "sunbathing in Italy" is in fact not at all straightforward.
On the Adriatic coast has the largest number ofresort areas, and the local beaches are a band of clean sand and allow to rest for families with small children, thanks to a gentle entry into the water and well developed infrastructure. Another plus in the treasury of the merits of the Adriatic Riviera - a great opportunity to do profitable shopping. The water temperature on the Adriatic coast in the swimming season reaches 27 degrees, making bathing very pleasant.
Ionian Sea is not so popular amongtravelers, but because there is cheaper and hotels, and the opportunity to be alone with nature and with each other is incomparably higher. The season starts in late spring when the water warms up to 23 degrees. Beaches of the Ionian sea in Italy often gets the prestigious award for the cleanliness, and the season, thanks to its southern location, it lasts until the last calendar day of autumn.
Tyrrhenian Sea - a rocky coast, secluded coves and quiet family hotel. Beauty Amalfi Coast Sea make it the most popular among bohemians.
Ligurian Sea offers for holidayswealthy travelers who experience a need for solitude and silence. The beaches are rocky and often are simply rocky coves, and hotels - petite and have a quiet and contemplative rest.
Photos coast of Italy