Traditional cuisine of Jamaica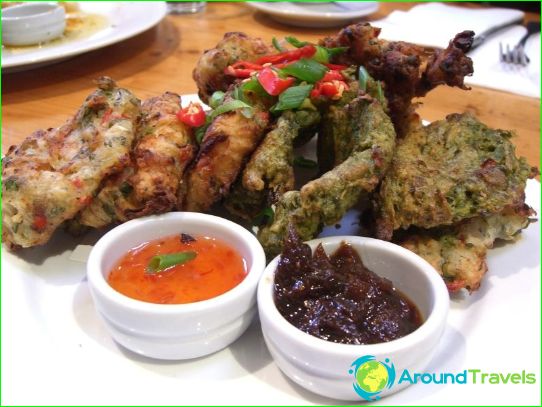 Dining in Jamaica it is characterized by the fact that the cuisine is very exotic and diverse, and local establishments you can eat well at reasonable prices.
Food in Jamaica
In Jamaican cuisine influenced by Spanish, African, Indian, Chinese and culinary traditions of other countries.
The Jamaicans diet contains fruits,vegetables, fish, seafood, meat, legumes, cereals (including soybeans). His dishes Jamaicans prefer seasoned Jamaican pepper, curry, thyme, cardamom, nutmeg, ginger, garlic.
In Jamaica, worth a try dried cod,served with tomatoes, onions and akkoy (ackeesaltfish); chicken or pork (pre-marinate it), cooked on the grill (jerk); flat pancakes that are made from cassava flour (bammy); curry goat; rice dish with the addition of coconut milk, stewed red beans, green onions and garlic; cakes with various fillings (vegetables, meat, fish); dried and sun dried shrimp with pepper; stockfish lamb with guava; smoked fish with mango marinade.
A sweet tooth can enjoybanana-coconut pudding, steamed (duckunoo), exotic fruit with pulp of citrus fruits and condensed milk (matrimony), cakes with fruit fillings.
In Jamaica, you can eat:
in cafes and restaurants with national dishes and other cuisines;
local eateries and international restaurants, fast food chains.
Drinks in Jamaica
Popular beverages Jamaicans - cocoa, coffee, tea(Black, herbal), "skaydzhus" (a soft drink from the fruit syrup and crushed ice), "Malta" (sweet drink with honey flavor), coconut juice, beer, Jamaican rum (it is made from sugar cane), coffee liqueur "TiaMaria ".
In Jamaica, be sure to try the rum"Captain Morgan Black Label", the local beer is Red Stripe and Real Rock Lager, ginger beer, Chilean, Argentinean, Spanish wines (on the island, they are inexpensive).
Gastronomic tour in Jamaica
If desired, you can go on a culinaryfestival "Caribbean rum" - you will learn about the ancient traditions of the production of rum, pirates (they made this drink famous), will taste different kinds of rum and taste the products made from it.
In Jamaica, should go to the dinninga tour of the Caribbean's largest restaurant chains Walkerswood Caribbean Foods - offers lectures about the history of Jamaican cuisine, master classes on cooking jerk and tasting of national dishes.
While vacationing in Jamaica, you will visit the island wherevillas millionaires coexist with plants or prison, as well as be able to go on an excursion in caves, go outdoors activities (rafting, scuba diving, golf, motoparaglayding), try the jerk, Aki, saltfish and other dishes, which you can wash down with a traditional Jamaican cocoa or rum.
Photos national dishes of Jamaica