Airports Kyrgyzstan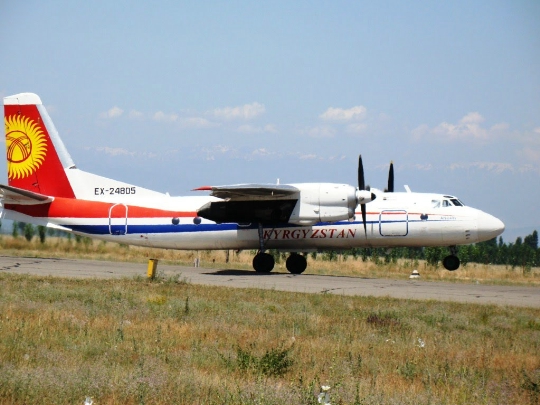 Air communication with Kirghizia, Russia is closelyestablished. Still, after the flow of tourists to the edge of the magnificent mountain scenery is increasing every year, and the locals are increasingly flying in both Russian capitals on business matters. Daily at airports Kyrgyzstan from Moscow and St. Petersburg make flights "Aeroflot", "Kyrgyzstan Airline" and S7.
International airports Kyrgyzstan
Status of international in the country have four air harbor:
The main airport of Kyrgyzstan in Bishkek Manas considered. Official Site - www.airport.kg.
Air Osh city gates are located on thesouth-west of the country. From dozens of flights daily committed outside Kyrgyzstan, including in Russia. "Aeroflot" carries passengers to St. Petersburg, the S7 - in Moscow and Novosibirsk, and "Ural Airlines" fly except for the capital of Russia to Samara, Tyumen and Yekaterinburg. The base serves as the airline Avia Traffic Company, flies to the airports of Russia and China in Urumqi. In Turkey from Osh flying Turkish Airlines air carriers and Pegasus Airlines. Transfer from the passenger terminal in Osh operate taxis N107. Details of the flight schedule and its services is available on the website - www.airport.kg.
International Airport near the village Tamchi -the main destination of those who are flying to Kyrgyzstan on vacation at Lake Issyk-Kul. It takes a lot of local flights in Bishkek and Osh, and one foreign - from Almaty, performed by SCAT airline.
City where the Karakol Airport, asboasts close proximity to the famous Kyrgyz lake. On the land side of the airfield from Bishkek local airlines and aircraft from Kazakhstan.
metropolitan area
The main airport and the capital of Kyrgyzstanshared by 25 km, which are easily overcome by the bus route 153. The stop is located right along the route from the passenger terminal, and the first flight to the schedule listed in 6.00. The transfer fee for a taxi is about 10 times more expensive, you can order it at a special counter in the left wing of the first floor of the reconstructed in 2007, the terminal building.
"Aeroflot" flies in the Manas airport in Moscow,Rostov-on-Don and St. Petersburg, and the Kyrgyz carriers Air Traffic Company and Sky Bishkek except the two capitals - even in many cities of Russia. From the capital of Kyrgyzstan air harbor you can go by direct flights to Tashkent, Istanbul, Baku, Dushanbe, Dubai and Urumqi on the wings of the national airlines of these countries.
It offers departing from the international airport of Kyrgyzstan - duty-free shops, cafes, currency exchange offices and a post office.
Photo