Bishkek - the capital of Kyrgyzstan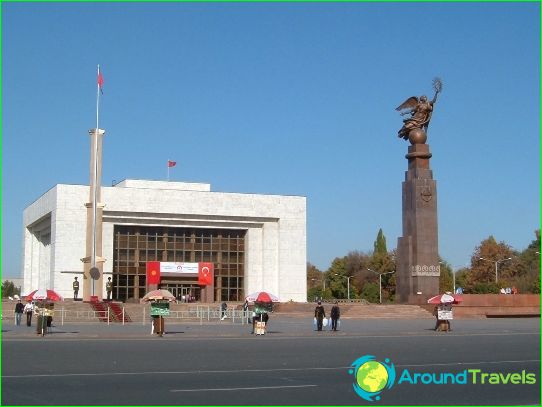 The capital of Kyrgyzstan, Bishkek - relatively youngcity. It was built just two centuries ago. If you - an admirer of antiquity, the capital will seem boring. But at the same Bishkek simply amazing number of parks located on its territory. Their total number - 20. Among them, the largest botanical garden in Europe.
Ala-Too Square
Bishkek residents call it the heart of the city. Verbatim name means "Snow Mountain", which, in fact, characterizes the nature of the country, half of which is mountainous terrain.
Ala-Too Square - the most favorite place for residentscapital Cities. This is where all sorts of events (festivities, festivals, celebrations, meetings, etc.). Ala-Too Square is surrounded by many interesting places to visit. In particular Sculpture Museum, Nikopol church and a monument of Friendship of Peoples.
Botanical Garden
Botanical Garden - one of the most beautiful andpopular places in Bishkek. Residents of the town call it Garden of Eden capital. It is part of the Academy of Sciences of Kyrgyzstan National and bears the name of EZ Gareeva - known scientist-biologist Kyrgyzstan.
The Botanical Garden was created in 1938. Today, he has already managed to take first place in the species composition of plants represented in it throughout Central Asia and the CIS. In the garden grow more than 8000 fruit plants, 2,500 species of shrubs and trees, 3 thousand flowers, grass and greenhouse plants. Botanical Garden covers an area of ​​124 hectares, but only 36 are available to visitors.
The best time to visit - spring and autumn. air spring garden full of aromas of flowers, and in autumn you can admire the bright outfits plants.
sculpture Museum
Sculpture Museum is located in one of the parkstown and falls into the category of museums "open air". The date of creation of the museum is 1984, and its opening is timed to the 60th anniversary since the foundation of the Kirghiz SSR.
Park Chingiz Aitmatov
One of the oldest areas of the city park. This Oak Park - almost the same age as the city. The first oaks were planted v1890 year. Its modern name of the park was relatively recently, in 2010 alone. But it still remains to Oak Park residents.
The park is St. Nicholaschurch. In addition to her during a walk worth seeing as a few interesting sights: the famous fountain "Twelve bowls," Eternal fire and granite 11-meter obelisk, located at the mass graves of the Red Army.
Photo