Prices in Bishkek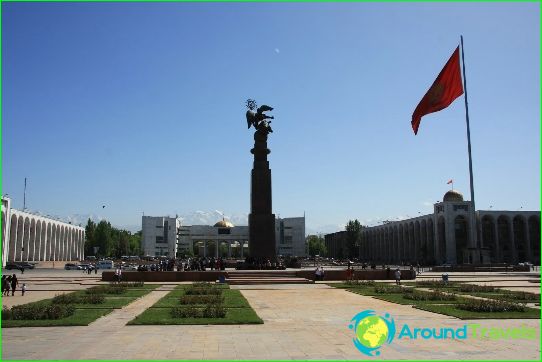 Bishkek has traditionally played the role of a transitcenter. It was in this city is visited by people who want to see the sights of Kyrgyzstan. In Bishkek, there are no bright sights, but it is worth to stay for a couple of days to get acquainted with the customs of the locals. Consider the price in Bishkek on basic services for tourists.
What money in Bishkek
The local currency serves catfish (S, KGS). In 1 100 soma tyyinov. In the city to change money - it's not a problem. But near Bishkek ruble cost will be lower than in the center. Rubles and dollars is accepted for payment in many outlets, but the course it is very much underestimated. Traveler primarily interested in issues such as food, transportation, mobile communications and accommodation. In Bishkek, everything is cheap, despite the fact that prices are gradually rising. If you do not contact the travel agency, you do not spend so much money. Looking to rent a room for $ 10 you can, eat - for $ 1-2 per dish. To get from Bishkek to Karakol on the bus can be for 150 rubles.
Bishkek Hotels
Hotels and city hotels offer accommodationRooms from 1200 soms (about 840 rubles). In Bishkek, you can find cheaper accommodation. Hotels of all classes offer bright and spacious rooms. In any Bishkek hotel guests have a warm welcome. Some hotels lodge tourists in yurts, organize national presentation and prepare beshbarmak. Arriving in Kyrgyzstan, you will find no hassle budget hotel type hostel or a hotel from 4-5 *. In the center of Bishkek is w / station. There, travelers can take a shower for 50 soms. At the station, there is a small hostel, which provides a place for rest and sleep (KGS 150 per night for 1 bed). If you are interested in Luxury property, pay attention to the hotel MARYOTEL, which is located in the eastern area of ​​the city. The cost of a single room is $ 125.
Bishkek Restaurants
In the Kyrgyz capital are so many institutionsNational, Russian, Asian and other cuisines. Cheap food offer in fast food outlets. There you can taste the Kyrgyz hamburger cost 20 KGS. In Bishkek popular types of fast food such as kebabs and samosas. The town has restaurants serving French and Italian cuisine. To taste the traditional food Kirghiz, visit the cafe "Labyrinth", which serves a good beshbarmak. Food hare offer in the cafe "Mazzei". Listen to live music and taste skewers of chicken can be in the cafe "Astana". Fine and expensive meals made in a luxurious restaurant Four Seasons. Inexpensive food offered in canteens and cafeterias. Dinner for two costs 150 soms. The cheapest option - to buy groceries and cook their own hands. Food is better to buy in the market. Supermarkets Bishkek products are more expensive and often overdue.
Photo