Bishkek Streets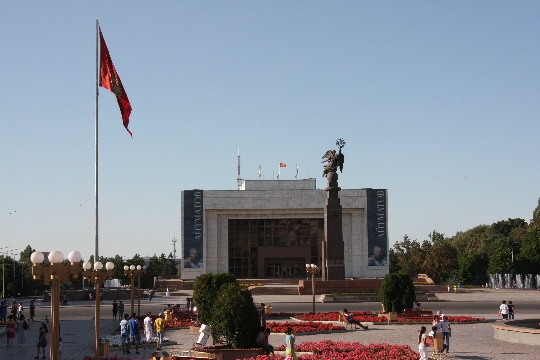 The largest city and capital of Kyrgyzstan isBishkek. It occupies part of the Chui Valley in the north, in the foothills of the Tien Shan. This city is full of historical, architectural and natural attractions.
Bishkek streets formed its appearance over the centuries. In the 7th century the town was called Julie mound, and later in its place was built a fortress Pishpek, which housed the largest garrison of the valley. Center of the Kyrgyz Bishkek began in 1925. In Soviet times the city bore the name of Frunze. The historical name returned to it in 1991
Zhibek Zholy Street
This long street begins in the west and Bishkekpasses to the east. The translation of its name means "Silk Road". In past years at the site of the street Zhibek Joly took the route along which caravans with porcelain, jewelry, glass, spices, fabrics. In the future, the road was paved and turned into a landscaped route. Today, along the street Zhibek Zholy shops, entertainment venues, hotels and others.
Chui
The most lively and large street Bishkekis Chui Avenue. Here are the best shopping centers, office buildings, cultural facilities: the Government House, the Historical Museum, City Hall, the Philharmonic Society, the International University of Kyrgyzstan, Central Department Store, offices of large companies, banks, supermarkets.
Before the revolution, called Avenue StreetMerchants, Stalin avenue, street XXII Party Congress. Currently, he is named in honor of the Chui River. Prospect has access to the highway, which goes in the direction of Tashkent. To the south of Chui street located Kiev, and then - Toktogul Street.
Street Ahunbaeva
This street begins in the northern part of Bishkek andIt passes to the south. East Street Ahunbaeva are sleeping areas of the city. Along the street there are such objects as the Kyrgyz Architecture and Construction Institute, Academy of Medicine, Ataturk Park, numerous shops and offices.
The oldest attraction in the streetAhunbaeva is a wooden house built in the Stalin era. Also preserved and homes in the 2-3 floors, built in that era. Especially picturesque look of the building, located next to the boulevard Dzerzhinsky.
Manas Avenue
To revitalize the prospect vies with Chui. It starts in the south and goes to the north, leaving the mountains. On the Prospect of Manas are various offices, schools, shops and salons.
Pictures of Bishkek streets