Traditional cuisine of Kyrgyzstan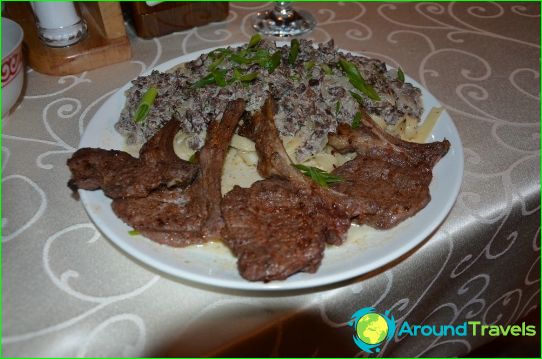 Power in Kyrgyzstan is characterized by relativelylow prices (but not the elite metropolitan food establishments). In addition, the local eateries offer their visitors enjoy delicious, fresh and natural food.
Food in Kyrgyzstan
On the Kyrgyz cuisine strongly influenced bygastronomic traditions of Tajikistan, Turkey and Uzbekistan, as well as the Uighur people. Diet Kyrgyz make up fruits, vegetables, meat (horse meat, mutton, beef, poultry), rice, fish, soups, dairy products.
Locals any meal start and finish a cup of tea: apply before the main course, they put on the table dried fruit, pastries, nuts and sweets.
In Kyrgyzstan should try the sausage from horsemeat; pilaf; manti; lagman; beshbarmak; kurut (sweet and savory balls of dried buttermilk); dried and smoked fish.
Where to eat in Kyrgyzstan? At your service:
cafes and restaurants with the Kyrgyz, Uzbek, Turkish, Iranian, Russian cuisine;
establishments with Euro-American junk food.
In Kyrgyzstan, you will not only be able to visit this Asian market, but also to get it freshly baked cakes, spices in bulk, salads.

Drinks in Kyrgyzstan
The most popular drinks are Kyrgyz tan,mare's milk, ayran, green and black tea, Bozo (the national drink with a tart and rich taste, like the Russian kvass mash on crushed wheat grains), dzarma (a drink made from barley, the taste is reminiscent of beer), Arak (Kyrgyz vodka).
Gastronomic tour in Kyrgyzstan
If desired, a gastronomic tour to KyrgyzstanIt can be combined with hiking and sightseeing. As part of this tour for you to organize a tour to the northern coast of Issyk-Kul - in the city of Tokmak you will learn to cook a national dish "shorpo". And having gone to the east coast of the lake to the town of Karakol, you will learn how to cook kuurdak - the national dish based on roasted meats, potatoes and onions.
During a trip to the gorge Zhetu-Oguz you will be taken toone of the local yurts: hospitable nomads will treat you with local treats - mare's milk. And continuing the journey along the southern shore of Issyk-Kul, you will be taken to the village Bokonbaevo: here you will be able to try dymlamu - dishes based on meat and vegetables (lamb, potatoes, carrots, cabbage, onions, peppers, tomatoes, garlic).
During a gastronomic tour of the Kyrgyzstan youand visit the village of Kochkor: here you will learn how to cook meatloaf ( "Oromo"), as well as be able to not only go to the gift shop and buy handmade products, but also to visit the exhibition felt carpets.
Activities in Kyrgyzstan will give you gorgeousnature, ancient Asian cities, opportunities for active pastime (trekking, climbing) and treatment (country famous for its mineral springs and therapeutic mud), as well as colorful local food.
Photos Kyrgyz national dishes