The population of Kyrgyzstan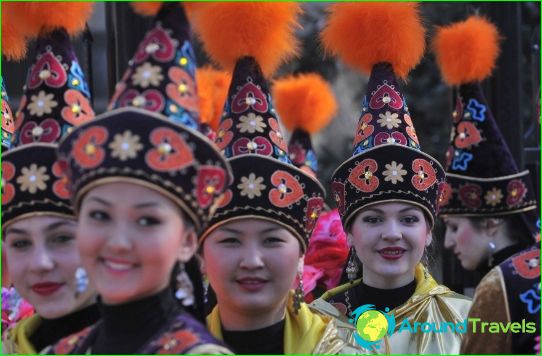 Kyrgyzstan has a population of over 5 million people.
The national structure of Kyrgyzstan is represented by:
Kyrgyz (69%);
other nations (Russian, Uzbeks, Tajiks, Dungan, Uighurs, Germans, Tatars).
60% of the population live in rural areas (especially in Uzbek and Kyrgyz). Russian mostly live in the cities, and the Uzbeks - in Osh oblast.
In the 1st quarter.km is home to 26 people, but most of the Kyrgyz population lives in Talaysskoy, Chui, Osh, Issyk-Kul, Jalal-Abad regions (population density - 100 persons per 1 sq km), and the least populated areas of Chatkal, At-Bashi, Naryn (population density - 5 persons per 1 sq km).
The official language is Kyrgyz, but widespread is Russian and Uzbek languages.
Big cities: Bishkek, Jalal-Abad, Osh, Talas, Karakol.
Kyrgyz residents are Muslim (Sunni) and Orthodoxy.
life expectancy
On average, the female population lives to 74, and men - to 60 years.
Despite the fact that Kyrgyzstan is quite well developed network of medical institutions, in which there is a shortage of disposable instruments and certain medications.
The main causes of mortality of the population - cancer, circulatory system diseases, respiratory diseases, parasitic and infectious diseases.
Before heading to Kyrgyzstan should do preventive vaccination against rabies, polio, hepatitis B and C, typhoid and cholera.
Traditions and customs of the inhabitants of Kyrgyzstan
Kyrgyz families, usually large, becauselive together several generations of relatives. The family decided to respect their elders and obey the head of the family. Also, in Kyrgyzstan developed mutual neighbor - if necessary, a family in need of assistance, always provide support as relatives and neighbors.
Kirghiz - hospitable people: If you are invited to visit - do not give up. As a rule, guests are greeted at the gate of the Kirghiz - they greeted and invited to come to the house. At the table is appropriate to ask well-being of family members and their affairs. As a gift for the owners of the house, you can take with them small gifts, and for children - sweets. It is not surprising that the beginning and the end of the meal will be accompanied by tea party - this is a national feature of Kirghiz (pours tea master of the house).
In the life of Kyrgyz special rolenational entertainment, namely, the various ethno-games and competitions. The most popular games are the equestrian events and Ulak-tartysh (fighting horsemen for a goat carcass). Young people like to play a romantic game Kiz-Kuumai ( "catch the girl"), the essence of which is as follows: man, riding a horse, has to catch up to her and kiss her. As a rule, play on the big holidays in ethno-games, and a large number of people taking part in them.
If you are thinking for a walk during a visit to Kyrgyzstan, always keep your passport with you, as the local police often stopped travelers to check documents.
Photo