Prices in Kyrgyzstan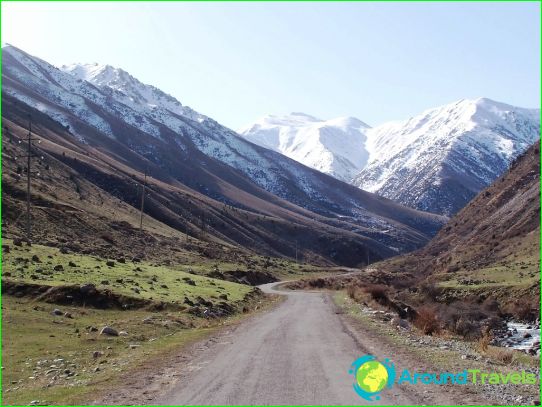 Prices in Kyrgyzstan are low, so by going here, you can count on a cheap holiday.
Shopping and souvenirs
Arrived in Kyrgyzstan on shopping is worth considering,that local shops are open from 08: 00-17: 00 (prices are fixed). But local markets, it is desirable to visit in the morning, and, the sooner the better (there is appropriate bargaining).
From Kyrgyzstan should bring:
national clothes, felt carpets, itemsinterior, various charms, silver jewelry, chess with Kyrgyz ornaments, leather accessories, photographs and paintings with Kyrgyz landscapes, ceramics;
cognac, nuts, honey, dried fruits, mare, balms Arashan and Ala-Archa.
In Kyrgyzstan, you can purchase a variety of fridge magnets - from $ 1, cognac - from $ 10.
Excursions
Excursion to Grigoriev Gorge will cost you $ 8, and the salt lake Kara-Kul with dinner - $ 20.
On a sightseeing tour in Bishkek you canwalk on Victory Square and the Youth alley to visit the Kyrgyz National Philharmonic Hall, Historical Museum. The approximate cost of the tour - $ 21 for 1 person (with the proviso that the tour will be present 10-15 people).
On the tour, "Chon-Kemin and Burana Tower" youclimb the tower and visit the open-air museum. And then you will be taken to the guest house, located in the Chon-Kemin valley, where you can enjoy nature, fresh air, take a ride on horseback and enjoy local food. The tour, which will be present 10-15 people, costs about $ 100 (with dinner) for 1 person (if you decide to go for this tour together, then for 1 person you will pay $ 200).
If desired, you can go on a two-daytour includes visits to Lake Kara-Kul, Barskaun waterfall, museums Jets-Oguz and Karakol. The approximate cost of the tour - $ 53 (meals included in the tour price).
To fly on a parachute over the lake Issyk-Kul can be for $ 26/1 hour ride on a banana water - from 6 $ / 1 hour ride on horseback - from $ 5 / hour horse ride.
Transport
Between the Kyrgyz towns and villages cantravel on buses and taxis. For example, from Bishkek to Balykchy can be reached by bus for $ 3.5, and a minibus - for $ 4.5. If desired, you can rent a minibus with a driver: daily rental will cost you $ 50-60. If you decide to order a taxi, then a trip within the city center of Bishkek will cost you no more than $ 1, and the cost of travel from the center to the bus station - 1,5 $.
Daily expenses on vacation in Kyrgyzstan amount to roughly $ 45-60 for 1 person.
Kyrgyzstan
Photo