Rent a car in Kyrgyzstan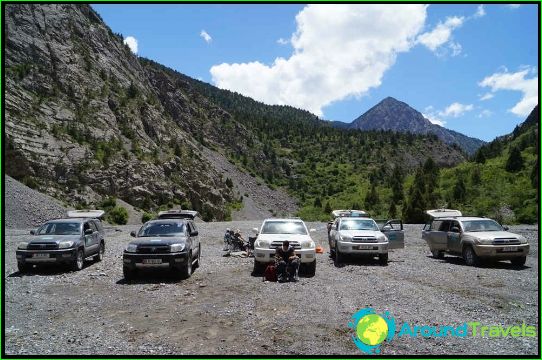 Currently, the car rental in Kyrgyzstan notextended as the road can not be called ideal. In addition, there is no insurance for the car. Traffic police officers often extort money from drivers. It is important to note that the independent travel away from the cities of Kyrgyzstan are dangerous. In this connection, rent a car in Kyrgyzstan may not be the best option. In the ideal case, you should hire a taxi with a personal driver. You must be prepared for the fact that one day rental is required to pay 50 - 70 dollars.
Car rental cars in Kyrgyzstan morepopular resort towns, which often come vacationers wishing to visit local attractions on their own. This service gives tourists the opportunity in a comfortable and familiar rhythm for myself traveling around the country.
In a rented car, for example, can be reached and to the foothills of the Pamir and to the resorts of Issyk-Kul. Here is a list of services provided by local offices for rental cars:
Rental car with unlimited mileage;
Rent a car with a driver and an interpreter;
Rent a car for business trips;
Rent for the weekend;
Delivery of the car at any place on the client.
Amazing Kyrgyzstan
Natural attractions areunique and ancient cities of the Great Silk Road, are extremely interesting. On the territory of Kyrgyzstan are located mountain ranges of Pamir and Tien-Shan. Here is the largest and deepest lake, known as Issyk-Kul. Tourists are attracted by relic walnut forests, radon, hydrogen sulfide hot springs, the valley Jets Oguz, the glacier Inylchek gigantic proportions. This unique nature contributes to the fact that in Kyrgyzstan come to people of different ages.
Bishkek is one of the best and most unusualKyrgyzstan cities. Here you can visit the Osh bazaar, visit the Museum of Natural History, Museum of Art. Natural Park "Baytykskaya Valley" has a majestic mountain Boz Peldek, which offers a wonderful view of the city. Visit the botanical reserve Chon-Aryk allow to see interesting and rare plants.
In Osh you can see the unusualAttractions representing the architecture style of Fergana. Among the attractions of the mosque should be noted Shahid-Tepa and Sadykbaya, madrassas. If desired, you can visit the Church of the Archangel Michael, built in the early XX century. The excursion program should include familiarity with the ancient baths complex, the ancient cemetery, unusual petroglyphs. From Osh you can start climbing the peaks of the Tien Shan, Pamir, a walk in the cave Chil-Mayr Chil-Ustun. In addition, it is located near the karst spring waterfall known as Abshir-Sai.

Perhaps you want to feel particularlyKirghiz real life? In this case, you can go to jailoo pastures. You will have the opportunity to live in a yurt, drink mare's milk in the morning and spend the day outdoors.
Kyrgyzstan - one of the most unusual Asian certainly win your heart!
Kyrgyzstan
Photo