Skiing in Kyrgyzstan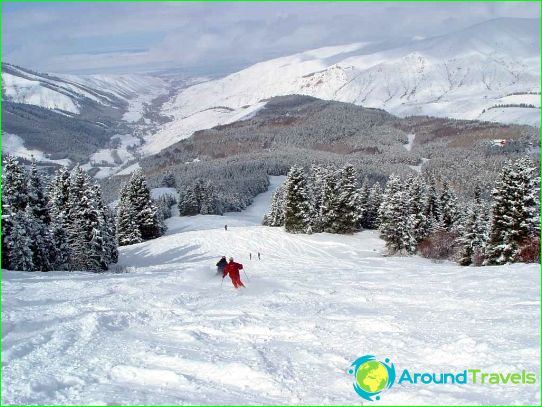 Kyrgyzstan is in a series of former SovietAsian republics in the "mountain" place. This is where the peaks - the highest, the types - the most fascinating, and because the ski resorts in Kyrgyzstan were bound to appear. Today, here come the sports fans and amazing nature, fresh air and endless vistas opening from every mountainside resort Kyrgyzstan.
The equipment and lines
Norus Kyrgyz resort is less than 40kilometers from the capital. Guests waiting for him with the hotel houses a chalet at the foot of the slope and the picturesque town of tents. But most importantly - it runs Norus, where you can feel the perelest skating. Ski school instructors will help to stay on the slopes and beginners, and those who do consider themselves athletes with an average level of training. By the way, the route Norus may be suitable for all types of winter sports: for skiers and boarders, and for freeriders. At an altitude of 3000 meters in Norus equipped with a helicopter pad for heli-skiing fans, and cable cars are designed to lift both skiers and snowboarders.
The resort Karakol spreads much farther fromBishkek: their share of 400 kilometers. However, this is not a reason to abandon the rest in modern and technically strong resort. In addition, the road to Karakol very picturesque and runs along famous Lake Issyk-Kul. Place on Karakol is possible in chalets or hotel package. The resort offers great opportunities for skiing and freeride fans, and for those who prefer the comfort and well-groomed trails. Most downhill runs through pine forests, there are trails laid by the huge virgin spaces. Raise the athletes to the starting five modern lifts.
At the ski resort there Kirghizspecial toboggan run, gear for use which produces a local rental. Prices for accommodation, ski passes, services, instructors and equipment hire in the ski resorts of Kyrgyzstan is much more profitable than in Europe. The quality of services provided, even pampered guests consider very high.
Activities and excursions
Traditional entertainment at ski resortsinherent in the Kyrgyz ski bases. Here you can have a great time in a cafe or restaurant, relax in any bathhouse to choose from horseback riding or bowling. For the youngest sportsmen work playgrounds, equipped with snow towns, carried out sledding.
Photos Kyrgyz ski resorts