Traditions Kyrgyzstan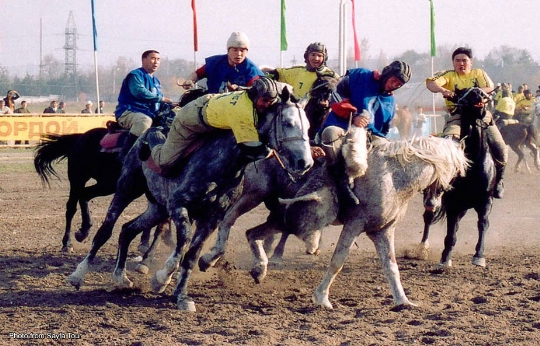 Since ancient times inhabited Kyrgyzstannomadic pastoralists, who are in search of the best pastures are constantly moved from one region to another. During the nomadic tribes to enter into relations with other peoples, learning from their culture, marriage, household customs and traditions because of Kyrgyzstan - is a powerful fusion of Turkish culture and the Mongols, Dungan and Uzbeks, Uighurs and Kazakhs.
Yurt on the flag
The traditional Kyrgyz dwelling - a yurtNomad, which provides maximum comfort of living and can be folded and re-installed in minutes. Kyrgyz traditions suggest perform many rituals during the construction and settlement of the new tent, which essentially boils down to the expulsion of evil spirits and bring good luck and prosperity to the house. Portable home Kyrgyz nomad is so important in the country's culture that it even depicted on the flag of Kyrgyzstan.
No less important thing in life - Kyrgyz carpet. This craftwork is not just an element of interior design, but also an indicator of social status of the owner. The carpets are manufactured by felting wool. They are extremely warm and light help to escape from the weather. From this carpet sew bags and sacks, and their service life is several decades.
What are they, Kirghiz?
Once on a trip to this mountainous country, it is important to remember that the people of the country live under special laws, which differ from the generally accepted norms of life and behavior of the Europeans:
Guest house in Kyrgyz, on the opinion of residentscountry, sent over, so take care of it will be with a lot of love and attention. After receiving an invitation to visit the home Kyrgyzstan, do not forget to buy the sweets to a desk or a small souvenir for the hosts.
Do not ask questions about earnings, orshare their own financial problems. In the tradition of Kyrgyzstan - an interest in the health of family members and behave sedately and respectfully with all participants feast.
Kyrgyz national cuisine - a hearty, cooked with meat are not too familiar to European varieties.
Once in the country, do not forget to find out whereand when are ethno-games. The competition riders or competitions in the national struggle is a vivid spectacle, which, according to the Kyrgyz tradition, collected a huge number of spectators, and are of great interest for the traveler.
Photo