Beaches in Riga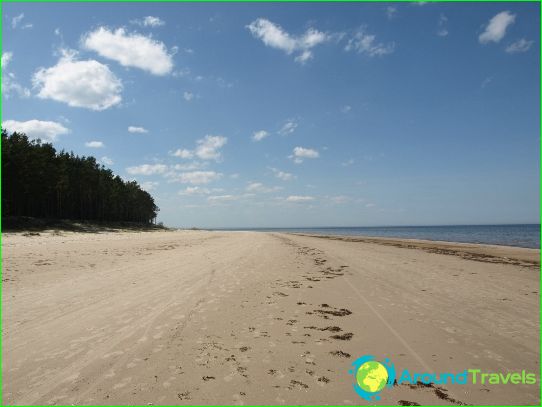 Riga neighborhood near the sea are known for theirsandy beaches. As expected, almost all the beaches in Riga received the Blue Flag for environmental cleanliness, water transparency, as well as a high level of safety and quality service.
The best beaches in Riga this:
The beach on the shores of Lake Kishezers;
Beach Ustdvinska;
Beach Vecaki.
Very nice beach is located at the baseKishezers rest near the lake. infrastructure is very well developed, there is a huge choice of entertainment. The choice of visitors and features for active pastime (there is a bike path on site), and a relaxing, family holiday. Avid fishermen can go to the shores of the lake, where there are different kinds of fish.
The Daugava River, from the Baltic Sea, isUstdvinska beach. Several years ago, the recreation center has been landscaped, as are the beaches. Entrance to the beach for an extra charge, the entry barrier is fenced. Upon entry into the territory of the beach, more precisely, to the parking lot have to walk. The path leading down to the beach line, opens the viewer is quite eye-catching landscape. For safety on the water watching the rescuers. Friendly environment is quite modest: there are no numerous sunbeds, deckchairs and changing rooms, while the coastline in this area is quite large. Near the beach there is a forest zone. Here you can get some fresh air while walking.
Vecaki Beach is one of the most favorite placesrest with the locals. Very much like to walk from Riga local pine forest, located nearby. On the beach there is a very convenient area for beach volleyball and football.
kiteboarding fans can rejoice - the localweather meets all the necessary requirements for their favorite sport. From the city to the beach can be reached by suburban train. The road will take only 30 minutes. Well, by car from the center and can be reached for all 15.
The best of the best
Well, how not to mention the well-known Jurmala. Beaches hit her with their beauty and attract year more and more tourists every year. Here you can have a great vacation with your family or a charge of adrenaline, choosing the most exciting water sports. On the shore scattered various cafes and restaurants, as well as spas and hotels.
The most luxurious and comfortable beach is consideredHavana Club Lounge. The highest level of service is complemented by the presence of comfortable sun loungers and umbrellas, comfortable showers, locker rooms. In the evening and at weekends the beach is filled with the sounds of live music and at the same time start a variety of recreational activities. It is necessary to enter the area of ​​this paradise 20 lats.
Very clean, comfortable and beautiful beaches are located right here in Jurmala. It is called Jaunkemeri. Perhaps the best and most famous beach in the city. The sand is almost white, the water is very clean.
Photos of Riga beaches