New Year in Riga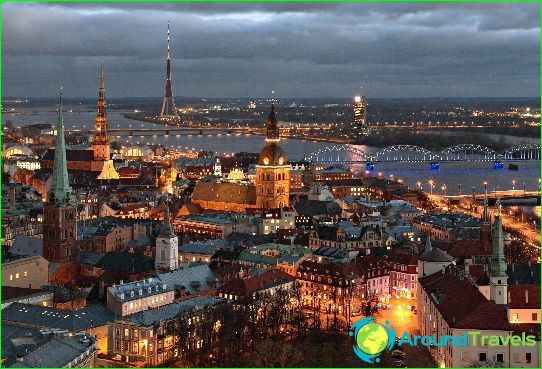 The capital of Latvia is not accidentally called smallParis. She is a beautiful, old, preserved its cultural and historical past, and very creative. The villagers sing and paint pictures, dancing and delicious meals, are able to create a cosiness and widely celebrate the holidays and in a big way. So maybe the New Year in Riga - that variant of the winter holidays, which will be the most vivid and memorable?
Primus inter pares
Latvian capital Residents claim thattheir city had the honor of setting the first Christmas tree. Since then it has passed more than five hundred years, and custom not only caught on, but also successfully spread around the world.
Holiday week starts before the CatholicMerry Christmas. Already in mid-December, the city itself resembles a richly decorated Christmas tree. Each store, a restaurant or a house is competing in his quest to beautify the facades and storefronts. Riga delicate taste and chic make illuminations particularly bright illumination of bridges - tracery and fine, and the shelves of boutiques and department stores - luxurious and attractive.
For fans of antiques
New Year in Riga - this is an extraordinary opportunityenjoy walks through the old town. Frosted tree branches and frost glass panes make the capital of Latvia, especially romantic and forced her guests to forget about time.
Main masterpiece of architectural thought - DomeCathedral, built in the XIII century. Today this magnificent building takes under its roof exposure Maritime Museum and the Museum of History welcomes visitors to the town.
The Old Town and its historic center - is aensemble in which every building or house is a masterpiece of past eras. From the observation platform of the church of St. Peter, you can look around the neighborhood and make memorable photos, and descended to the ground, take a stroll to the Riga Castle, whose erstwhile power allowed the Livonian Order to maintain its military advantage over many decades.
Photos of New Year celebrations in Riga