Independent travel to Riga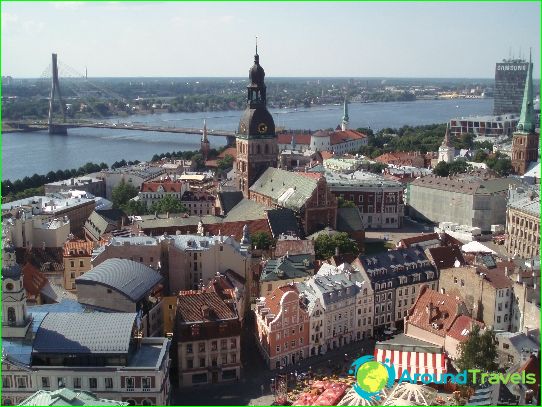 Baltic has always been considered something sophisticated,stylish and elegant. Rest on the Riga coast could afford a few, but it looked like he eleulovimo unattainable in the years holiday in the west. In Riga made films "about the West," she beckoned and attracted thousands of fans of the medieval charm of old castles and towers. Today the capital of Latvia - a place where you can spend time in the romantic walks and go for a short while in the children's dreams.
When to go to Riga?
In the summer of Riga attracts the comfortable weather,allowing long walks along its ancient streets and enjoy the sights. The city is decorated with Christmas, as a picture, and numerous fairs, markets and sales make the capital of Latvia is particularly attractive for shoppers. Even in January, the temperature here does not fall below -5 degrees and wind from penetrating great save by Latvian weavers knitted hats and scarves.
How to reach Riga?
Direct flight from Moscow, St. Petersburg and some otherRussian cities perform various airlines. From the airport to the city bus runs regularly and office car rental are opened directly in the arrival hall. Getting around the city is perfectly carried out, and using public transport, especially since parking space in Riga is not too easy to find, and on weekdays for parking and will have to pay.
housing
Riga hotels as close as possible to the pricesEuropean. Even for a modest 2 * will have to pay in full. Save money will help the choice of the hotel is not in the historic center and its maximum simplicity. Even so, hotel guests are guaranteed comfort and service, and breakfast and dinner are always enjoyable in a cafe, at a table where you can watch the leisurely life of Riga.
Argue about taste
Riga Food - is an example of high style andimpeccable elegance. As in other European capitals tourist normally one - turn off the trails and look nahozhennyh institution away from the popular routes. The prices will be lower portions - more, and coffee - fragrant.
Cognitive and exciting
Riga Cathedral, and House of the Blackheads, Powder Towerand Three Brothers, Laymovskie clock and house cats: in Riga, the most important thing when walking - comfortable shoes and a charged battery photo and video cameras. Then the family album will be a source of pride, and the memory of the elegant Riga will be not only in the heart.
Photos trip to Riga