Rest in Riga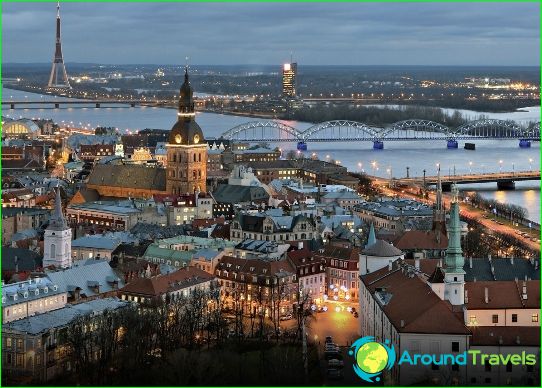 Holiday in Riga - a walk through the narrow streets, visit medieval castles, tasting the cuisine, visiting museums, theaters, cinemas.
The main types of recreation in Riga
Sightseeing: on tours offers a look at the Powder Tower, the Swedish Gate, St. Peter's Church, Dome Cathedral, Riga Castle, Blackheads House, Freedom Monument, a complex of apartment buildings "Three Brothers", to look into the Ethnographic Museum, Natural History Museum, the Museum of porcelain, space exploration museum , walk along Kalnciema street (weekly guests here to entertain concerts and events on the national culture) and the area Andrejsala (here focused art workshops).
Active: visitors can spend time in nightclubs, "Saxophone", "Casablanca", "BigPoint", "Essential", "Depo", play golf, laser tag or paintball, parachuting (visit the airfield "Spilve"), go on a horse and bike rides.
Family: children should head to the entertainment center "Go Planet", Riga Puppet Theatre, Museum of Chocolate, Riga Zoo (you can watch the flamingos, hippos, giraffes, lions), Meza-park (in the summer attractions are working here, and in the winter - paving the ski slopes) , Botanical Garden.
Event: if you wish you can visit the city Day (August), followed by a joust, theatrical performances, shows retro car, the performances of Argentine tango dancers; Fashion Show "RigaFashionWeek" (October to April); International Festival of Organ Music (June); Festival of light "StaroRiga" (November), as well as at the exhibition festival of erotica "Erots" (the end of winter and beginning of spring).
Prices for tours to Riga
The best time to travel to Riga is consideredMay-September. But it is worth considering that in June-August (club and entertainment industry working at full capacity), during the festivals, the New Year and Christmas tours in Riga increased by 20-40%. To save money in the Latvian city you can go in the low season, which lasts from October to mid-December and from late January to mid-April (at that time it pleases democratic prices in the restaurants, museums and galleries, spa-centers).
On a note!
Buy whatever you can at the Central Market (bargaining is appropriate). To save on transportation and other costs, it is advisable to purchase RigaCard.
Since the town is not big traffic jams andthere are quite a few places to park, you can explore the city in a rented car (you must have an international driving license and credit cards). But if you want to rent a bike, and you can (it is possible to reach all the city's attractions).
Returning from Riga to their homeland, for a memorial to betake with Riga balsam, amber products, leather and knitwear, porcelain, handicrafts (handmade baskets, author of forging items).
Photos recreation in Riga