Riga Street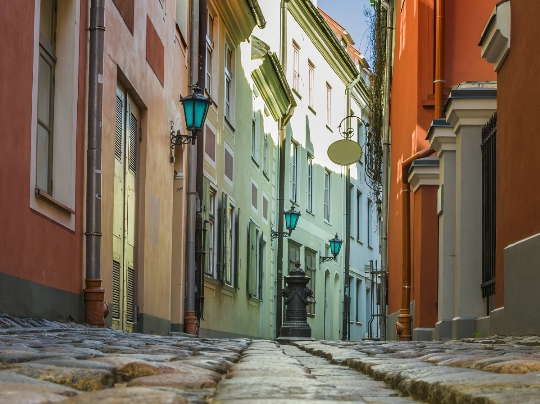 The largest city of Latvia is Riga. It is located on the banks of the Daugava. In the city there are six administrative districts. Historic streets of Riga are located on the right bank of the river. The oldest part of the city is a UNESCO World Heritage Site.
The central streets
The main streets were formed from the roads leading tothe oldest settlements of Riga. All of them already existed in the 15th century. Many of them have other designations. Some streets were already familiar names.
In medieval artisans settled in RigaDepending on the direction of the business. For example, butchers lived separately from shoemakers. The old streets of Riga retained the titles on various crafts. The boundary of the Old Town is the street Valdemara and cable-stayed bridge. Behind them is the port of Riga. The central part is formed by the main boulevards and streets, which run around the Old Town. Parkways divided city canal and green areas.
In the city there are three district and three suburbs. Apart from these, there are neighborhoods that do not have clear boundaries. The center of Riga and the old town form a central area, which area is about 3 square meters. km. Its boundary is Aleksandra Caka street, Tallinas and others.
Brivibas street
This street is one of the central streetsRiga. It has a length of about 12.5 km, and originates from the area of ​​Brivibas (Freedom). On the square is a monument to Freedom. During the period of the USSR highway called Lenin Street.
Brivibas crosses the street Gertrudes, whichis the Lutheran Church of St. Gertrude. Brivibas street runs through the whole territory of the right bank of the city. In its place many centuries ago there was a large sandy path.
Albert Street
The open air museum is a streetAlberta. The buildings there are built in the style of Art Nouveau in Riga. Street was formed in 1901 and was named in honor of Albert von Buxhoevden bishop. Houses built famous architects. Mikhail Eisenstein, Frederick Scheffel, etc. Properties in Alberta Street is considered the most prestigious and expensive in Riga.
Pushkin street
In Riga, there is a street dedicated to the Russian poetPushkin. It passes between the Academy of Sciences to the manufactured goods market. On the map of the city street was a long time. Originally called Pushkin street Smolensk. It is a quiet area of ​​the city, which is partially covered with pavement with stone blocks. There is a wood and stone building, typical of Riga's architecture.
Photos streets of Riga