Excursions in Riga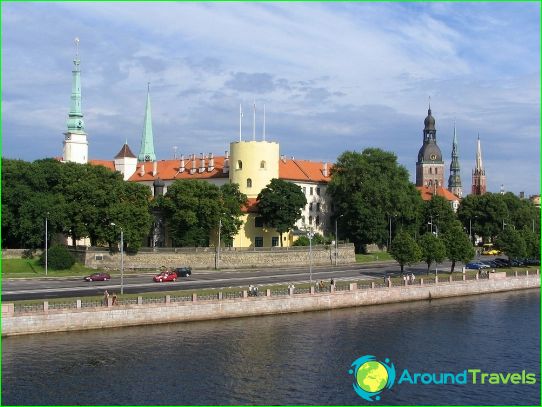 Riga - the city is so unique anddiverse that a simple sightseeing tour can not cope with the task to acquaint the tourists with all the sights of the capital of Latvia. Tourist bureau of the city offer different tours in Riga.
Sightseeing bus tour. For the first acquaintance with the city, it is quite suitable. The tour covers all the main attractions of the Latvian capital. The Old Town provides a way out of the bus and walking tour. Among the attractions in the area tourists will Dome Cathedral, Riga Castle, and so on. Do not be left without attention and the building of the National Opera, which has been recently renovated. Children will be delighted by the monument to the Bremen musicians on the square in front of St. Peter's Church. Sightseeing tours 3:00 last in Riga. You can take part in biking tours.
Walking tour "Northern capital of modernity." Riga is not accidentally called the capital of Art Nouveau. Here, at least one third of the buildings built in this style. The guide will offer to explore the most bizarre buildings tell their story. Among the architects who have left their mark on the architecture of Riga, there is the name of Mikhail Eisenstein, father of the famous film director. The facades of its buildings are distinguished by special decorative elements, and you can admire them forever. Tour itinerary runs past the house where Bulgakov grew wife, who became the prototype of Margarita.
Excursion to the Ethnographic Museum. He is not in the building, most of the museums and in the open air. It was founded in 1924. On the shore of Jugla it was equipped small town, which tells about the life of Latvians in the XVII-XIX centuries. The museum consists of more than 90 different buildings, both residential and industrial. The latter include craft workshops, watermills, Nordic taverns. There in the town and the church. All the mechanisms presented in the museum, perfectly functioning. If the tour takes place in the summer, you can enjoy live music, which is performed by a folk ensemble, or an organ concert.
Excursion to Rundale Palace. During the reign of Empress Anna Ivanovna Palace was the residence of the famous Biron. It is located not in the Riga, and 80 km to the south. Palace, or rather palace complex and the park, built in the Baroque style by the architect Rastrelli.
Presentation of excursions to explore the city is not limited. A more detailed list can be found at the tour desk.
Photo excursions in Riga