Water parks in Riga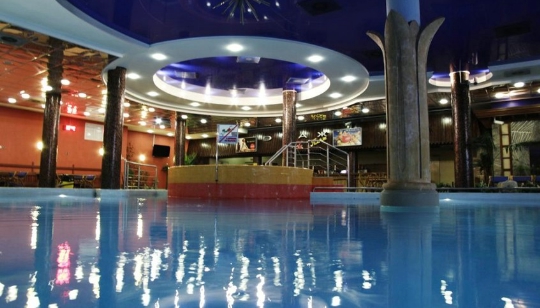 Your goal - to experience the excitement and thrill? Visit the water park in Riga - where you can not only have a great time, but also improve their health at any time of the year.
Waterpark in Riga
Waterpark "Akvalande" at the disposal of guests:
slides of varying heights;
swimming pools (for children, 25 and 100-meter) and a Jacuzzi;
sauna complex with sauna, Turkish baths and Chukotka;
bar.
Entrance fee on weekdays: children up to 16 years - € 5 Adults - € 8. The cost of visiting the weekend: children under 16 years - 5 euros adults - 10 euros.
Water Activities in Riga
Those who want to stay in Riga hotel with a pool, you should pay attention to "Wellton Centrum Hotel & SPA", "Opera Hotel & SPA", "Gallery Park Hotel" and others.
For those interested in swimming pools is recommendedto go to the house of sports "Daugava" (you can swim in the pool and go rowing, take part in water aerobics classes and diving, as well as to warm up in the sauna), Olympic Sports Centre (then you can do different sports, spending time in swimming pool with 6 lanes and attend various competitions) or "Sportima" (the sports club features a swimming pool with 4 lanes for different tempo swimming, children's pool, spa-center, sauna complex, the center of yoga and meditation, squash court and gym) .
spa-center "ESPA" can be visited, if desired: Guests can visit the sauna, solarium, the sessions of various procedures (2-hour treatment with amber - 160 euro, mud wrap - 50 euro, oil-salt scrub - 45 euro, 180-minute treatment detox - 240 euros), hold while the open-air spa pool.
Travelers who have had recourse to the services of the companyLaivinieks, will be able to explore the beauty of Riga and its surroundings, rafting, kayaking along the Daugava and the Riga Canal (as the route involves travel past the sights, the tour guide will be accompanied by a story).
And visitors to Riga can go on the waterexcursion by boat (inspection provided the capital's attractions), organizes the company "Riga by Canal" - landing on a historic ship Darling or small boats carried out near the Freedom Monument (adults - 19 euros children - 9 Euro).
As for a beach holiday, the good beachescan be found on the shores of lakes Kishezers (recreation, fishing) and Babel (2 offers bathing areas - for adults and children, table tennis, playground for beach volleyball, children's playground, a picnic area, a rescue service). In addition, you can go on a river beach in Kipsala (equipped with a small children's slide, and then exposed in the summer life post) or Ust-Dvinsk beach (there is a sports area, inflatables, water bike rental).
Photo