What to do in Riga?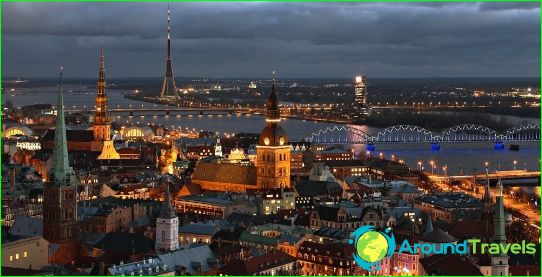 Riga - a city where neighbors medieval houses and buildings in the Art Nouveau style, large shopping centers and cozy cafes where you can enjoy homemade cakes.
What to do in Riga?
To see the panorama of the Old Town, up to the observation deck of St. Peter's Church.;
Visit the Dome Cathedral and listen to organ music (concerts are held here on a regular basis);
Take a walk across Riga on a bike, you can rent which in automatic rental locations Baltic Bike;
To visit the Ethnographic Museum (here you will learn about the daily life of Latvians in the 16-19 centuries, visited the exhibition of arts and crafts, acquire original souvenirs made of amber, leather, wood).
Things to do in Riga?
The main attractions are located in theOld Town district. Taking a walk here, you can visit the miniature town of Konventa Seta (there is a hotel with antique shops, porcelain museum, cafe), see the Church of St. Peter, the Dome Cathedral, Riga Castle, House of the Blackheads, house cats, street Zignu and Meistaru (here filmed film "17 moments of spring").
Couples with children can gowater park "Livu Akvaparks". Even the smallest visitors can enjoy themselves freely in "Mothers", "Father" and the pool "Hummingbird". The water park's center, Country Kid, each camper can besiege the castle and to cool the ardor of the enemy with cool water.
Look at the performance of professional acrobats, animal trainers, clowns, tamers and casters can be in the Riga Circus.
On shopping in Riga is better to come in the winter - in thisseason large shopping malls opened the season of sales. Thus, it is advantageous otovaritsya can "ORIGO" and the department "Stockman" in a large shopping mall, which sells products related to the different categories (appliances, jewelry, clothing, shoes, perfumes).
For nightlife should go into the nightclub "Saxophone" (here will feel comfortable fans of rock music), "Big Point" (in this club plays international music), "the Casablanca" (where you can enjoy not only good music, but also delicious national dishes). Well, fans of colorful parties and dances will be able to revel in the good club "Essential" - this is possible thanks to a huge dance floor, modern music and a variety of exotic cocktails. Be sure to enter "Faraons" in a nightclub, room is decorated in ancient Egyptian style (Hall decorated with pyramids, sarcophagi and statues of priests). In addition, a nightclub bars, dance halls and VIP-halls.
If you decide to spend your vacation in Riga, you will relax and get great new thrills.
Photos you can go in Riga