Areas of Jurmala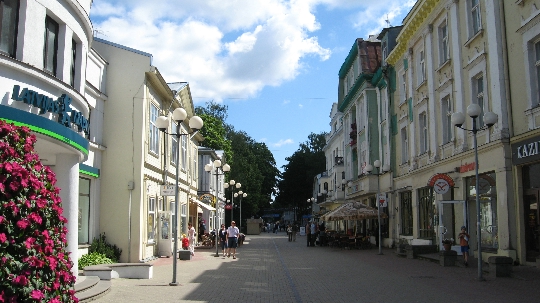 Jurmala Region reflected on this mapLatvian resort city. By areas of Jurmala are Vaivari, Lielupe, Major, Dzintari, Pumpuri, Bulduri, Jaunkemeri, Yaundubuty and others. A total of 16.
Description and area attractions
Lielupe: interesting indoor tennis courts, sandy beach, buildings, inhabited by well-known personalities such as Janis Zalitis and Pauls Stradiņš, aquapark Livu Akvaparks (offers to spend time in any of the 4 areas, experience extreme attractions, including the "Tornado", as well as look into the salt room, try contrasting and other procedures at a local spa-complex) and natural park Ragakāpa a position to hiking trails ( "Pine trail," "nature trail" and others) and the museum (you can see the fishermen's house of the 19th century, a collection of ropes, fishing boats and anchors, but still there will be able to enjoy the smoked fish and the Latvian beer). It is worth noting that the park - a place of rare plants and habitat of protected species of birds.
Ķemeri: interest are therapeutic factors (three kinds of mineral water, sapropelic and peat mud), sculpture "Turtle" and the National Park (for the convenience of guests are made research trails, observation towers for bird-watching, there is school of natural history - anyone can take part in research sessions in the marsh or in the forest).
Dzintari: popular for its concert hall Dzintari (venue for concerts and events) and the eponymous forest park (guests will be able to breathe fresh pine air, to admire and to photograph beautiful panorama that opens from the observation deck, actively spend time in the skatepark and on track for inline skating ).
Maiori: fame brought him a luxury hotel and spa-centers, Jomas Street with cafes and restaurants, the square where the monument to Rainis and Aspasia, the People's House in Jurmala, the estate background Fircks.
Where to stay tourists
If you care to be involved in an activetourist life, then you will approach the accommodation facilities in the central districts of Jurmala - Majori and Dzintari.Te who are interested in the area with developed infrastructure, can pay attention to the district Lielupe (offers - Hotel "Lielupe", a water park, a supermarket "Rimi").
For stays and rehabilitation of health mayapproach area Kemer - despite some abandonment of climatic and mud-bath town, here today operate some motels.
If you want to stay in silence and stay in largesanatoriums in Jurmala? Note Vaivari areas Pumpuri or Melluzi (they are removed from the center, which can be reached by taxi in 15-20 minutes).
Pictures of Jurmala regions