The beaches of Jurmala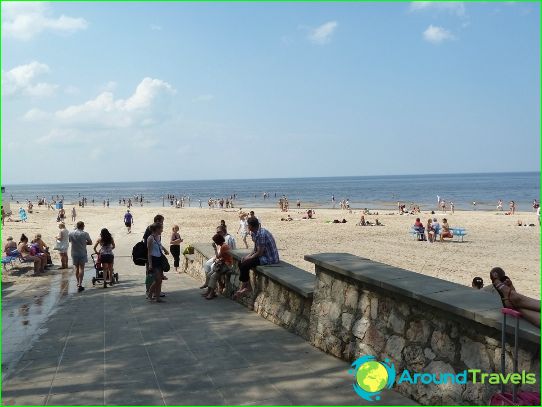 Jurmala City, who proudly placed onGulf of Riga, stretched its beaches about 26 km. Features that are available here for leisure hit. Jurmala Beaches suit even the most finicky traveler, and children remain very impressed with the local nature. In the Baltic States Jurmala it is considered the most popular beach resort, due to its size and well adapted to receive a large number of tourists every year.
Some features of the city attract not only lovers swim, but also interested in antiquities and tourist attractions:
unusual architecture of the city: the decor, carved wood, ancient spa facilities, preserved almost intact;
wooden buildings with windows, divided into nice squares;
numerous verandas and balconies, which are almost the hallmark of Jurmala;
solid house in Dzintari, where you can mentally flip a few pages of history and experience the grandeur of the ancient architecture.
It is noteworthy that the number of historicalconstructions of Jurmala is four thousand, and 414 of them are included in the list of architectural monuments. Relic Hunter here is what to do, while the rest will bask in the rays of the sun beach.
Beaches - the pride of Jurmala
The best sandy beaches of Jurmala were awarded"Blue Flag", which indicates the quality of local service, clean beach and equipped infrastructure. Rest is extremely safe, so the impression of the rest remain very positive. Present water bikes, motorcycles, you can play volleyball, football or handball. In the summer here in charge of a small steamer from Riga, from where you can see all the beauty of Jurmala. Also for the tourists here have quite a unique offer: riding on electric car around town.
Sometimes local beaches can be quite a catchmajor competitions in handball or volleyball, so that travelers will be, what to see, not even getting up from your well-equipped sun loungers. In Jurmala regularly hosts music festivals, music from which certainly reaches the beaches and uplifting even more.
The water here is very clean and the sand is cleaned everyevening. The descent into the water shallow and very convenient for small children, so that you can rest in Jurmala and alone, and the whole family, with kids. At the local beaches, vacationers can sample dishes from various types of cuisine: Ukrainian, Chinese, Thai, Japanese, Chinese and many others.
Photos beaches of Jurmala