New Year in Jurmala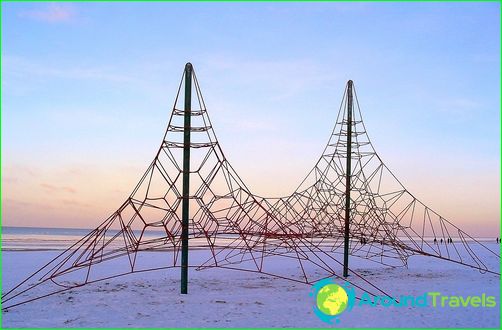 Since its inception the Latvian resortconsidered one of the best on the coast of the Baltic Sea. Rest in sanatoriums it was the dream of many Soviet people, and the city associated with European level of comfort and unreachable. Today, to celebrate New Year in Jurmala and to make sure that its reputation since then did not hit, you can, buying a holiday tour during the winter holidays.
Pearl of the Sea
The words of the famous song fully fitJurmala, bearing in mind the Baltic Sea. This place is famous for its salubrious climate, fiddle which plays the sea, pine trees and sand dunes, carefully sheltering the city from the strong winds.
Going to Jurmala in winter, do not look for swimming, but walking along the shore of the Baltic Sea and enjoy the life-giving air, it is possible to include in the program of rest.
A variety of experiences
Communication with animals works wonders and allowsget real pleasure from the holidays. In Jurmala is communication - Horse riding, for fans of the club whose riders "Cavalcade" is open. Friendly horses eagerly rolled the visitors in the arena and on walks in the picturesque surroundings and experienced instructors ready to give lessons to anyone who just discovering this beautiful kind of leisure.
Admirers of history and art seeminteresting visit to the Museum of the city of Jurmala, where the set of thematic exhibitions. Avid anglers know a lot of new stories in the Museum of Fisheries, which shows the old utensils and modern gear fishermen.
Combine business with pleasure, relaxing in the newyear in Jurmala, everyone will be able to improve their health. Local resorts have extensive experience in the treatment of respiratory diseases and musculoskeletal system. Mud baths and fitoobertyvaniya, bathing in mineral waters sessions and hardware cosmetology - air and skilful hands of doctors Jurmala really work wonders!
You can spend a festive evening in one of thethe city's restaurants, where a variety of Latvian cuisine will be presented in the menu. Decorated as a tavern, fish restaurants famous for their seafood, and desserts, served in the coffee houses of Jurmala, able to make people forget about diets, even the strongest spirit.
In memory of the traditional amber and high spirits can lead a wonderful vacation in Jurmala, which is more than enough until the next New Year's marathon.
Photos in Jurmala New Year celebrations