Aquariums in Jurmala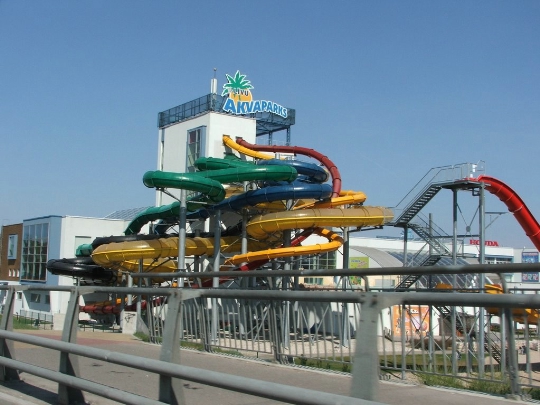 Hotels in Jurmala - means, including, to spend time in a three-story water park building, the interior of which reflects the Caribbean style, and get a lot of positive emotions.
Aqua Park in Jurmala
Water park "Livu Akvaparks" offers 40 rides designed for younger and older guests who are in one of the 4 zones available here:
"Captain Kid's Land": kids will be delighted by the pirate ship, water cannons twisted slides, rope, banana and lemon bridges, a grotto "Monte Cristo", the river with caves and waterfalls.
"Sharks Attack": this area will appeal to extreme tourists - it is famous for its towers, "infeed funnels" pipe "Red Devil". And there is a bar in the pool "Baja".
"Paradise beach": the pride of this zone - the Caribbean wave pool and a lighthouse from which you can admire the panorama of the entire water park. And those who are hungry, can have a snack at the bar "Kambazola".
"Rainforest": here you can swim in one of 4 pools, "experience" attraction "Tornado", walk over the bridge Duke Jacob (it will take you into the zone of the "Land of Captain Kid").
Organization of additional services in the water park"Livu": features - cocktail bar "Lasens" (then cook a delicious pizza) Food Establishments "Zambezy", bar "Red Bull" (happy guests a variety of cocktails), the SPA-zone (water massage, contrasting procedures, hydrochloric room, infrared heater, bath for foot reflexology). Those who decide to go to a hot sauna after a session can cool off in the pool in which the temperature is maintained at + 10˚ C.
The cost of visiting the water park (all day): in low season adult pay 26 euros for a ticket, and 5-14 year olds - 19 euros (family ticket for 1 child and 2 adults costs 65 euros); in high season, entrance for adults is paid at the price of EUR 30, and for children - 21 euros (family ticket costs 72 euros). For children up to 3 years, regardless of the season, for they will have to pay 3 euros, and for 3-5 year old children - 5 euro.
Still it is necessary to go to the camping "Nemo" - he has summer houses, places for trailers and tents, outdoor pool, 5 tubes of different heights to descend, bar, sauna.
Water sports in Jurmala
At the local beaches (Bulduri, Majori, Kemer,Dzintari) visitors can play volleyball and handball even (sometimes competitions in these sports, which is worth visiting), ride jet skis, as well as on a small steamer.
Interested in diving? You will be able to pass a 3-day "PADI Open Water Diver" training course, involving immersion in the pool and open water - you will learn to dive safely to a depth of 18 meters, so you can admire the underwater flora and fauna (the approximate cost - about 100-120 euros ).
Photo