Christmas in Latvia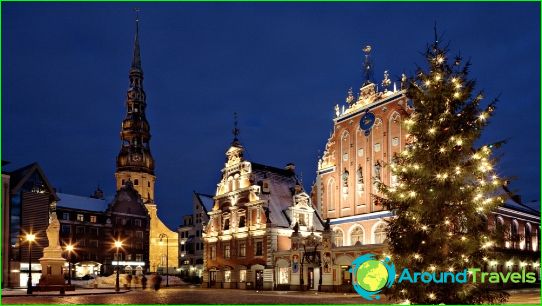 It is Latvia with Germany on the age-old disputetopic, one of them is the birthplace of the Christmas tradition of decorating the Christmas tree. For these travelers, such nuances are not too important, because any trip to Europe promises the best possible experience. So what option to spend Christmas in Latvia can be thus an adventure that will change if not a lifetime, in the mood for the better - for sure.
Gingerbread - fun for naukas!
The ability to decorate their city - is a science andan important ritual of the inhabitants of the country amber. Glittering trees and burning thousands of lights showcase stores, candles on the window sills and gold wreaths, garlands on the trees and the white-winged angels - towns and villages Latvia transformed prettier and more.
The main flavor of Christmas in Latvia - the smellmagical gingerbread cookie, which is prepared the local housewives. Pepper pastry - a symbol of the coming holiday. From this dough is baked figurines and houses that adorn the tables of Latvians. Festivals Christmas trees and Christmas bazaars wraps and aroma of hot mulled wine, which is cooked directly on the squares and streets.
Dome Square - the heart and soul of old Riga - notIt stays away from the general holiday rush. Fair, which opens here on Christmas Day in Latvia, offers a lovely and cute souvenirs, which is inconceivable without a holiday. For family and friends in the square before the Cathedral welcoming vendors offer jewelry with amber and knitted hats, hand-made articles from a tree and Christmas tree ornaments handmade.
For fun there is bad weather
On the Dome Square at Christmas suitdrawing deck - a ritual that pays tribute to the pagan past. The tree needed to drag and burn to come purification of thoughts and all the bad and negative thing of the past. This custom sovpedaet calendar with the days of the winter solstice. Modern Riga offers an ancient ritual performed by the urban folklore ensembles.
On Christmas Day in Latvia, you can go toBaltic Sea and see how celebrate in Jurmala. City of amber and music festivals takes tourists with great hospitality and offers the public entertainment.
In any case, in Latvia there is something to look atthe winter vacation. The main thing is not afraid of bad weather and bring a warm hat and scarf to hide from the winds that are so fond of hosting Christmas in the Baltic States.
Photos of Christmas in Latvia