Coast Latvia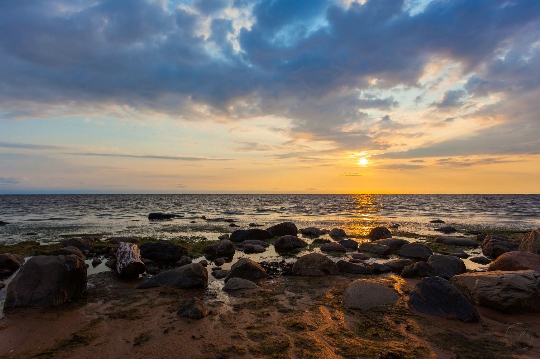 Coast Latvia - a modern port city, old fishing villages, the Baltic Sea, sandy beaches, stretching for 500 km.
Resorts of Latvia on the coast (the benefits of rest)
Resting on the shores of the Baltic Sea will be openedfor themselves rather diverse types of recreation - here they will wait a little affected by civilization coast Kurzeme, high Jūrkalne steep coast, rocky coast in the Thue and Kaltene, ice-free ports in Liepaja and Ventspils, and the beaches are covered with sand, in Saulkrasti and Vecaki.
Cities and resorts on the coast of Latvia
Ventspils: This city offers a ride on a tour boat "Duke Jacobs" at the mouth of the Venta River, explore the Palace of the Livonian Order (13th century), narrowly linear railroad "Mazbānītis", as well as exhibits (vintage fishing tackle, schooner, mill) open-air museum in the Seaside park (move can be on a train "Cuckoo"), walk through the Market Square, to visit the water park "couple Ventspils" (adults immediately installed tower with a family, a standard Iturbe-slide, and for children - attractions "Mushroom", "Octopus", "Gorka frog "), situated at the beach, equipped with sun beds and umbrellas, as well as the points where you can rent equipment for water sports.
Jurmala: the glory of the resort brought pine forests, motels, resorts and rehabilitation centers (for the treatment of used mineral water, herbal and mud baths, wraps) and 33 kilometers of beaches (white quartz sand). Here you will be offered a trip to Kemer Nature Park (you are waiting for a leisurely walk on the hiking trails, kayaking on the river, sport fishing), aquapark "LivuAkvaparks" (in the "Rainforest" has 4 swimming pools, bridge, attraction "Tornado" in the zone "Attack the sharks" - towers and the "tightening funnel" in the zone "Earth captain Kid" - twisted slides, grotto of Monte Cristo, a ship with water cannons on the "Paradise beach" - Caribbean wave pool), at the major beaches (noisy recreation with popular bars) Dubulti (rest in a quiet environment) and Bulduri (family and children's rest).
Liepaja: here you can see the Church of the Holy Jazep, visit Seaside Park JurmalasParksi Holy Trinity Church, to take part in celebrating the music festival "Baltic Beach Party", to visit the Rock Café, visit the master class in the artisans House (you can buy your favorite work by local artists) and at a local beach (golden and white sand, has received for its well-groomed Blue flag).
In the Latvian coast is something to do for nature lovers, gourmets, unhurried leisure and extreme sports fans.
Photo