Coat of arms of Latvia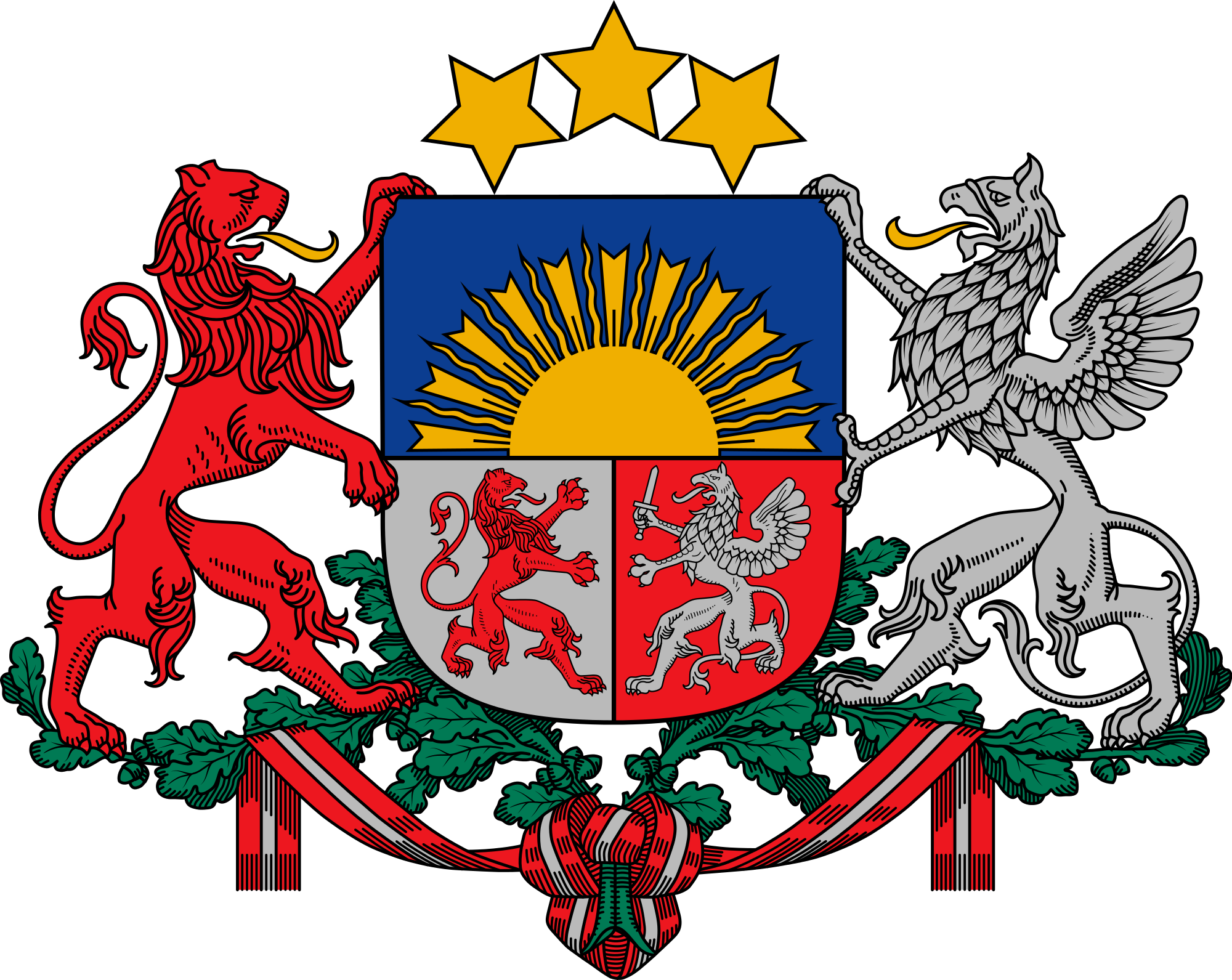 Small in size, but the proud balticState barely survived the years of existence of the Soviet Union. Having a long-awaited independence, immediately announced its full sovereignty. In the light, new official symbols, including Latvia coat of arms, flag and anthem.
Thus, on the country's main emblemswe can say Latvians worked too hard, approving large, small and complete with small coat of arms. They are bright, complex structure, the use of national and European symbols.
The main symbols of the Republic of Latvia
Among the images on the large emblem of the country's present:
scarlet lion looking to the left;
Silver Griffin, looking to the right;
rising Sun;
three stars, located arched;
framing in the form of an oak wreath.
Mythological animals on a large coat of armsappear twice, they act as Supporters and are present in the field. The shield is divided into three unequal parts, the bottom of the depicted: Left, in a silver box - stylized scarlet lion on the right, on the contrary, in dark red field - a silver griffin. The upper part of the shield azure with a rising luminary of heaven, symbolizing the flourishing of Latvia.
Oak wreath tied with a ribbon, the colors andfigure coincide with the national flag of the republic. Small coat of arms of Latvia is a shield with known images and three top stars. Complemented by a small symbol of the country is a wreath of oak leaves, but without the tape.
use Regulation
The fact that the Republic of Latvia has so muchnational symbols does not mean that they can be used by all, everywhere and at will. The law regulated the use of a coat of arms. Big coat of arms can be used by the country's president, prime minister, parliament, ministries and other key government bodies. Also, according to the regulations, it allowed the presence of this national symbol to the documents consular missions of Latvia abroad.
Small supplemented coat of arms allowed to usevarious committees or commissions of the Parliament, ministries and institutions under their podchinenii.Maly coat of arms - the prerogative of the various government agencies, municipal bodies. The progenitor of this national symbol of Latvia is considered to be the coat of arms, proclaimed in 1918, the independent Republic of Latvia, because until that time there was not a single country's coat of arms.
Photo