Traditional cuisine in Latvia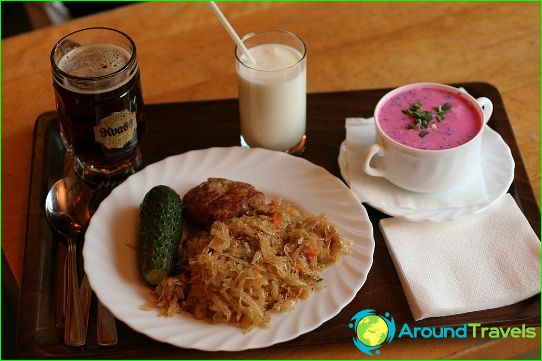 Food in Latvia relatively inexpensive (pricesfood in local cafes and restaurants are lower than in Moscow and Western Europe). Many tourists will appreciate the fact that local food is not only useful, but tasty, hearty and varied.
Food in Latvia
Diet Latvians consists of meat, bakery and dairy products, fish (cod, grouper, mackerel, pike, flounder), soups, vegetables and legumes.
Latvians like to start their day with a PeasantBreakfast, which is a platter of sliced ​​into cubes of boiled potatoes, homemade sausages and smoked pork loin, which is filled with egg-milk melange and baked in the oven.
Latvia is famous for its excellent bread, havingmany varieties: the country can meet different kinds of bread - from light carrot to rye with nuts and dried fruits. This product is so popular among Latvians, he often becomes the basis for the preparation of such culinary delights as yogurt and ice cream.
Arriving in Latvia, you can enjoy suchunusual food combinations like semolina with addition of beaten egg whites, nuts and jam cranberries; beer or bread soup with dried fruit; pudding of black bread ...
In Latvia, be sure to try the bakedcakes with various fillings (potatoes, corned beef, ham, cabbage, carrots, cottage cheese); fried herring with onion sauce; a casserole of fish and bread stuffing with cheese and onions; lamb in cumin sauce; pork ribs, fried on a gridiron; marinated eel; jellied pork.
Where to eat in Latvia? At your service:
restaurants of different national cuisines (here you can order dishes of European, Caucasian, Latvian, Asian, Latin American cuisine);
cafes, pastry shops, snack bars;
Fast food places (they are presented pizzerias, dumplings, pancakes, a network of fast food restaurants "Lido").
Drinks in Latvia
Latvians are a popular drink tea, coffee, kvass, beer, wine, vodka (vodka cumin and tomato), liquor.
Because alcoholic beverages in Latvia should try the famous "Riga Black Balsam" and numerous herbal tinctures.
Lovers of light beer varieties should pay attention to "Aldaris Luksusa", "Bauska Gaysais," "Aldaris Zelta" The lovers of dark varieties - on "Porteris" and "Bauska Tumsais".
Gastronomic tour in Latvia
If you go on a gastronomic tour,for example, "Modern taste of the Baltic", you can visit the Riga market (here you can sample organic foods and talk about each of them), taste "Riga Black Balsam" with chocolate on a "Laima" factory, to try national dishes and drinks in a tavern old cities.
A trip to Latvia will appeal to gourmets - then they will be able to enjoy, both traditional and modern Latvian cuisine.
Photos national dishes Latvia