Holidays in Latvia in November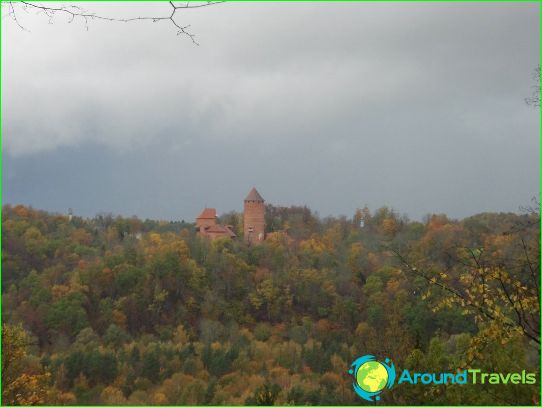 November is a harbinger of the coming winter. the last month of the first days of autumn still relatively warm. The temperature is + 7 ... + 9C in the daytime, and at night - +1 ... + 3C. Cooling is becoming stronger by the end of the first decade, when the night temperature is lowered to 0C, and a day - up to + 5C. The fixed maximum temperature November + 11C, and the minimum is rare, and it is a negative temperature.
November different variable cloudiness. The rains begin to go more often, and the sun appears briefly. Average rainfall in November - 61 millimeters. But despite the bad weather conditions in Latvia in November, you can spend your time.
Holidays and festivals in Latvia in November
Holidays in Latvia in November may differ rich cultural and leisure activities, for the last month of autumn have a lot of important events.
In mid-November, the festival is held annually"Riga shines" light. These days numerous city highlights objects using modern light and video technologies, making capital of Latvia looks especially. The program is developed for a long time and for the festival "Riga shines" received numerous requests. The festival also decided to celebrate the Independence Day of Latvia, in whose honor the parades, fireworks.
November 18 - Independence Day of Latvia, whichIt became an independent state in 1918. In this holiday decided to hang flags with national symbols. At the end of the festival on the waterfront of the River Daugava taken hold fireworks, which is best seen from Cable Bridge or Bastejkalns to appreciate the beauty in full.
November 10 - Day Martynov. This holiday is a symbol of the end of fall and beginning of winter. On Day Martynov in many cities of Latvia decided to hold fairs and other celebrations. Many families organize gala dinners and tend to cook a rooster or a goose, observing ancient Latvian traditions. Every tourist who will take the opportunity to visit 10 November in Latvia can see the features of Latvian culture and learn interesting tradition.
When planning a vacation trip to Latvia onNovember, you can enjoy a rich excursion program and leisure bright thanks to three important holidays. Despite the bad weather, holidays take place wonderful!
Photos recreation in Latvia