Kitchen Latvia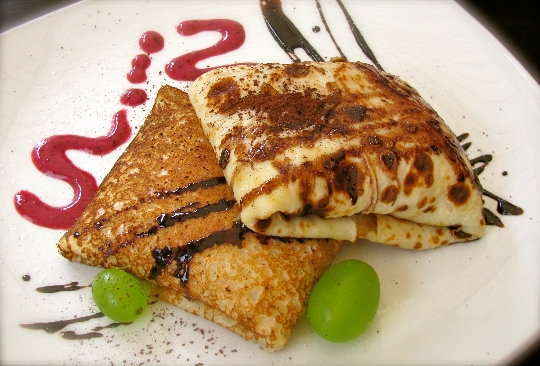 Kitchen Latvia underwent the influence of culinary schools in Russia, Belarus, Estonia, Germany and Lithuania. Latvian dishes are satisfying and easy to prepare, have a particular taste.
National kitchen Latvia
In Latvia, popular dishes based on fish andPotato: so you can try smoked flounder; fish, stuffed eggs; schuchyu eggs; baked potato with cheese; potato salads. No less love are various other vegetables and legumes: in Latvia prepare pumpkin and beetroot salads, soup of sorrel and spinach soup with vegetables. Meat eaters should eat pork ribs, fried to grilled, lamb in cumin sauce, all kinds of sausages and pates.
Are you a sweet tooth? You will be prompted to eat sweet rice pudding, Riga bagels, sprinkle with powdered sugar, "bubertom" (dessert made of sour fruit sauce, whipped whites, cream of wheat, cream and nuts), a sweet soup with dumplings and cherries.
Popular Latvian cuisine:
"Beer soup" (a soup made from beer, cheese, sour cream, eggs, bread, cumin, sugar and butter);
"Putra" (a part of this dish includes meat, fish, vegetables, barley or barley grits, bacon, beans, and acts as a filling yogurt or milk);
"Klops" (a dish of steak with onion sauce);
"Camaro" (is a dish based on stewed chicken);
"Sylt pudinsh" (casserole with herring and boiled potatoes).
Where to try Latvian cuisine?
In the summer you will find in Latvian restaurantslow-calorie foods, and in the winter - warming and hearty dishes. It is worth noting that the Latvian chefs tend to cook authentic restaurants modernized vintage dishes. For this reason, many food establishments visitors will find on the menu of dishes from different variations of gray peas or rye bread.
You used to leave a tip? Check account: often added to the total amount of a certain service.
In order to stave off hunger in Jurmala can lookin "Laivas" (this restaurant specializes in modernized Latvian dishes, among which is to be treated with schuchimi chops, crayfish tails with red caviar and Baltic herring with quail eggs), in Riga - in "Lido Alus Seta" (in this restaurant as well as a system self-service, a wide selection of Latvian dishes - favorite dish to be installed on the tray, and then go to the cashier to calculate, in addition here like beer lovers - here you can order any of the foamy drink 120 species).
Cooking Courses in Latvia
All interested are invited to cookingclasses in Viesistaba in Jacob's Barracks (Riga), where they will be able to cook 2 main Latvian cuisine, 3 appetizers and dessert (you can order an individual lesson if desired, including, for the company of your friends only). A tasting will be prepared for a large dining table.
A trip to Latvia should plan to gastronomy Festival (August-September, Riga), which is carried out in the framework of an international food exhibition "Riga Food".
Photo