Drinks Latvia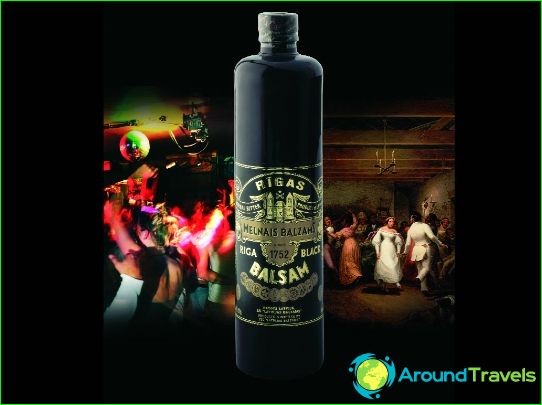 Latvia reminiscent of the Old World in a nutshell, here andGothic churches and medieval castles and knightly manners and cleanliness of streets and squares. Food and beverages there Latvia unchanged for many centuries and are characterized by simplicity and elegance at the same time. And this combination of products, both in the local dishes, even to search for other global menu and list.
Alcohol Latvia
Customs regulations require to importfree of duty less than a liter of hard liquor or two liters malogradusnyh drinks. Freely take out any permitted a reasonable amount of spirits, unless it is placed in containers of precious amber. Prices for alcohol Latvia does not seem rossiyaninu low: half-liter bottle of the famous "Riga balm" will cost in the supermarket at least 6-7 euros and a mug of beer at the restaurant - about 1.5-2 euros.
The national drink of Latvia
Business card and the Baltic statesLatvia's national drink is known to every schoolboy. Dark and strong "Riga Black Balsam" in the opaque ceramic bottle has been the object of desire of every Soviet intellectual, adds it to the morning cup of coffee.
Balsam Riga pharmacist invented, which inthe middle of the XVIII century was in the hands of an old recipe. Artwork Abraham Kunze conquered the Empress Catherine II. She got rid of intestinal colic and gave enterprising pharmacist patent for the production of balsam, which was even sung by the great Goethe, in his immortal "Faust."
The structure of the modern "Riga balm" isat least twenty components, most of which - of vegetable origin. The main flavors - honey and balsamic oil from Peru, and the medicinal effect provides a combination of ginger root and medicinal herbs.
Alcohol Latvia
For fans of traditional liquor many other drinks produced in the Baltic republics:
Beer light varieties "Aldaris Luksusa" and "Bauska Gaysais" and dark - "Porteris".
Vodka, insisted on caraway, "Kimenu Degvins".
Vodka Tomato and herb infusions - the most original alcoholic beverages in Latvia.
In the Christmas holidays all the Latvian town of boiled and drink mulled wine and through the squares and streets is carried mouthwatering aroma of cloves, cinnamon and orange peel.
Photo