National parks in Latvia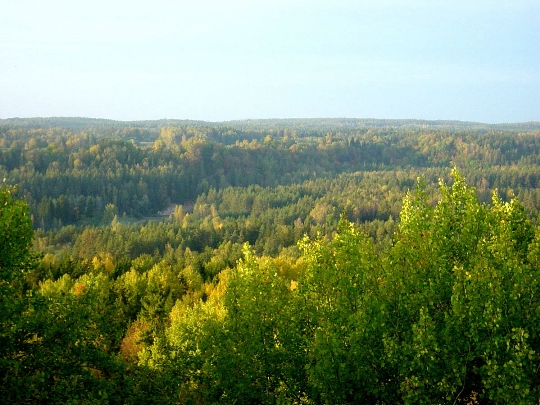 Four national parks in Latvia - the realBaltic pearl of nature. They are protected not only the flora and fauna of the republic, but also the unique natural formations - caves and grottoes, lakes and marshes, fields of medicinal mud and relict forests.
About every
Each of the four national parks in Latvia allows its visitors to enjoy hiking and watch the smaller brothers:
Special pride Slitere park in the north-west of the country - coniferous forest, where hundreds of tree species, mosses and shrubs. Three dozen of them are found only on the local area.
Gauja National Park in Latvia - the largest in area and is the oldest in the country.
Razna Park in the south-east of the country was established for the protection of the eponymous lake and its ecosystem.
In Kemer on the shore of the Gulf of Riga there are deposits of curative mud and mineral springs.
Livonian Switzerland
It is sometimes referred to as the middle of the XIX centuryland on the banks of the river Gauja. After passing a couple of hours by car from the city, the travelers find themselves in the valley with steep cliffs of sandstone, framed by beautiful forests. Fans of heritage interest and the town of Cesis and the nearby medieval castles of Sigulda, and historic churches.
To get to this national park in LatviaYou can by car along the highway linking Riga to Pskov. By public transport the easiest way to get to Sigulda or Cesis, where to buy a ticket for the local bus or arrange a taxi.
In the village of Ligatne in the park can be booked on a trip to the country's oldest paper mill or a ride along the river on the ferry. The tourist center is located at: Spriņģu iela 2.
The estate Ungurmuiža a museum with monuments of architecture in the style of wooden Baroque. The object is open from May to September from 10.00 to 18.00. The entrance ticket will cost 3 euros.
Mud weight in gold
Ķemeri National Park in Latvia - the objectspecially protected. Its terrain is swampy, intersected by lakes, on the banks of which nest in dozens of different species of birds. For easy observation of the feathered in the meadows and creeks built watchtowers and bridges reed.
On the thermal resort of Kemer in the park, you can treat yourself to a hydrogen sulfide baths, known since the end of the XVIII century. That's when the first Kemeri spa buildings were built.
Another natural attraction of these places - Green Dune. Sandy hill, overgrown with pine trees, stretches for several kilometers and along the paved walking trail health.
Park Administration and Informationtourist center is located at: Engures novads, Tukuma novads, Jurmala. All the questions visitors to answer by calling +371 677 300 78 Website Kemeri - www.kemerunacionalaisparks.lv.
Photos of the national parks in Latvia