The population of Latvia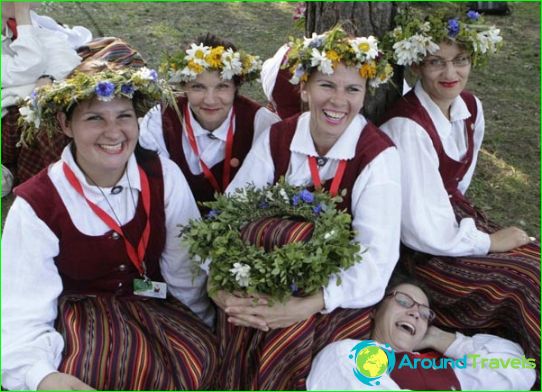 Latvia has a population of over 2 million people.
For centuries Latvia was a multinational state: in its territory before World War formed the traditional national community of Latvians, Russian, Poles, Jews and Germans.
The population of Latvia in recent years has decreased significantly due to migration - to leave the Russian-speaking population, and Latvians, on the contrary, come from the United States, Sweden and Canada.
National composition:
Latvians (58%);
Russian (29%);
Belarusians (4%);
Ukrainians (3%);
other nations (6%).
On average, 1 sq.km is home to 34 people, but it is characterized by high population density and areas east of the country Zemgale plains and low population density observed in the northwest Latvia.
The state language - Latvian.
Big cities: Riga, Daugavpils, Liepaja, Jelgava, Jurmala, Ventspils, Valmiera.
Residents of Latvia profess Protestantism, Orthodoxy, Catholicism, Judaism, Baptism.
life expectancy
On average, residents of Latvia live up to 69 years (the male population to 64, and women - 75 years).
The main causes of mortality -cardiovascular and oncological diseases, poisoning, injuries. Certainly, the Latvians would have lived longer if not for their desire for alcoholic beverages (Latvia on alcohol consumption ranks 11th in Europe).
The traditions and customs of the inhabitants of Latvia
Latvians honor their traditions and customs, and respectful of their mother tongue.
They love to celebrate the summer festival Midsummer (23 June): this night is not accepted to go to bed. According to tradition, the one who is awake, get the whole year supply of energy from a higher power. The festival is accompanied by seating around the campfire, stories amusing incidents that occurred with people throughout the year, as well as songs and consumption of traditional food (cheese, beer). A youth is sure: You can not get lucky that night to find the blooming fern, so they go looking for him in the woods.
Of interest are wedding traditions: to the couple lived happily and safely, they should visit the 7 different bridges (bridge moving, the bride and groom have to run into the sky balloon, placing the preliminary note with deep desire in him). And riding up to the last, the seventh bridge, the groom has to bear on it his lover, holding her in his arms.
On traditional dishes sure to put up a holiday table in Latvia (broth, meat pies, veal rolls).
If you have planned a business meeting with the Latvian, know that they are very punctual people and always arrive in time (to greet Latvian, he should shake hands).
Photo